Choose a Boat Stand: Taking a Beginner's Course for Sailing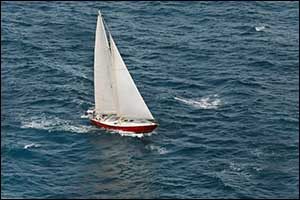 If you have always wanted to go sailing, but weren't quite sure how to get started, the best thing you can do for yourself is to take a beginner's course. There are a lot of things that you will need to know as a boat owner. Choosing the best boat stands for sailboats, while performing maintenance or storing in the off-season, can be a challenge. Stick with the Brownell boat stand system for best results, taking advantage of foldable sailboat stands that are easily stored and moved, as needed.
Find a reputable course and instructor in your area who can help you get on the right path to being a smart and responsible sailboat owner and operator. As you learn, it is also important to practice. Make sure to choose a day that has favorable conditions. You don't want to be out on the water during a storm, especially of you are new to boating. Calm seas and light winds are preferable. Always dress appropriately, remembering that it is often cooler out on the water than it is on the shore.
Getting Started on the Water
So you bought a huge sailboat, but have never been sailing. You might want to check into renting a smaller boat that will be more responsive so you can gain a better understanding of the dynamics associated with sailing. If you were to take a course on sailboats with the local American Sailboat Association, you would start with an ASA 101 course, which is taught on a 22-foot keelboat. If your sailboat is bigger than 22-feet in length, you will definitely want to start learning on something smaller.
Choose a boat stand or use boat stands for sailboats at the boat yard or marina where you store your vessel to protect it when it is out of the water. The Brownell boat stand system has a wide range of options, including stackable and foldable sailboat stands.
The right boat will help you to feel the wind and gain insight into how the wind and water will affect the boat. Sailboat lessons are just as much about giving you the experience to know how something will be affected on your own, rather than about providing you with a bunch of book work, terminology, and regulations. When it comes to sailing, it just as much about the "feel" of the vessel as it is knowledge of how to move and steer it in the water. Personal experience is vital to your success as a sailboat owner and operator.
Don't Go It Alone
One of the best tips that you can get as a new sailboat owner is to never go out by yourself. When you are just getting started, an ASA instructor can be your best friend. However, once you finish your beginner's course and gain more experience, having a friend who is already trained and experienced can be beneficial as well. The point of this all is to make sure that you have the safety training and support necessary to become a responsible sailor. When you get your initial tips, training, and support from someone who is trained to teach and has the experience necessary to provide you with answers and instruction in sailing, it will make a big difference in your long-term skills and attitude toward safety and proper sailing.
Pay Attention to Everything
Keep your eyes open and begin developing your instincts about sailing. Just as you won't automatically know which boat stands for sailboats are best and will need to learn how to choose a boat stand based upon your unique needs, there are some things about sailing that have to be learned. The Brownell boat stand system and its line of stackable and foldable sailboat stands can take the guesswork out of storing your boat when it is out of the water. Working with a reputable instructor can help you to learn important skills, such as watching out for the boom. Knowing the various parts of your sailboat can help you learn how to control the movement of the vessel when out on the water.
Make sure you have the best instruction, equipment, and care for your new sailboat. The time and money that you invest in the beginning will pay off throughout the life of your vessel and your knowledge of sailing. Visit our website to see all of the equipment available in the Brownell boat stand system or choose a boat stand using our Boat Stand Selector. Give us a call at 508-758-3671 to find an authorized dealer near you.