Brownell Says: Our Boat Stands Bring the Boats to Your Yard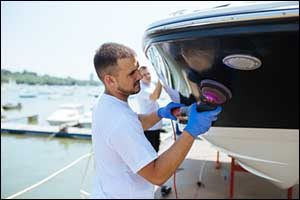 Looking for new ways to increase customers at your local marina or boatyard? While many drydock facilities are making dramatic changes, renovating the property or offering additional services, it is important to find out what your local customer base needs before making a substantial investment. One way is to provide your clients with top quality services and protection for their boats during the off-season. Building a reputation can take time, but most boat owners are quick to talk about their experiences and share them with fellow boaters. Choosing to use the Brownell Boat Stand System will provide your boatyard with many advantages that can benefit both you and the customer.
Brownell makes many different types of boat stands. Our stackable boat stands are extremely popular with professional marine facilities because they can be quickly used and easily stored without taking up a lot of space. We take pride in the quality of our marine industry stands, using only American tubular steel and offering galvanized or traditional blue painted options for increased longevity and durability. Our nested boat stands can be used for motorboats, sailboats, and specialty craft. We also have dollies and boat racks, which can be used for personal watercraft, pontoon boats, and custom vessels. Made in the USA, it is easy to see the dedicated craftsmanship that goes into the Brownell Boat Stand System.
Features of Brownell Boat Stands
Some of the most popular features of our marine industry stands include the wide variety, and types of boat stands available, including keel stands, benches, and stackable boat stands for motorboats and sailboats. We have sizes designed to fit virtually any boat, and Brownell offers a lifetime warranty on everything that we manufacture and sell. Our team of American craftsmen uses only the finest quality American tubular steel and solid steel ACME threaded adjustable rod for our stackable boat stands and keel support. We use a superior welded construction for long-lasting strength and durability. Choose from hot dip galvanized, or paint dipped coatings for additional protection from corrosion and damage.
When your clients tour your marina or boatyard and take a look at the types of boat stands you use, they will immediately recognize the Brownell Boat Stand System trademark blue and orange stackable stands. They will feel confident in knowing that your facility uses top quality boat stands and equipment for the repair, maintenance, servicing, and storage of their vessel. In addition, the design of our boat stands allows for the storage of more boats in the yard with better safety and stability than any other boat stand system on the market. The Brownell name is known throughout the world. Independently tested with a certified safe working load of 20,000 pounds each, our boat stands and keel benches are designed to stabilize and support motorboats, sailboats, and other types of vessels.
Innovative & Sturdy Construction
There are many advantages to boatyard owners for the use of Brownell Boat Stand System stackable boat stands, keel benches, and other components. Our products are simple and lightweight, which makes it easy for your employees to move them around and grab them quickly for use anywhere on the yard. Extremely portable and compact, they can be stacked and stored when not in use to make more room for other services on-site. Easy to adjust with our solid steel ACME threaded adjustable rod center, Brownell marine industry stands can be quickly adjusted even under a heavy load. The range of options available with our different types of boat stands makes them a huge value to professional marinas and boatyards around the globe.
Boatyard owners can also boost efficiency when using our trademarked stackable boat stands. Combine them with boat racks, keel stands, and other staging systems within the overall Brownell Boat Stand System for best results. This helps to create a very efficient and cost-effective yard, making it easy for your team to provide top quality services to your customers. This adds to your reputation, helping to increase occupancy in your drydock area within the local marine community. Designed for use with all vessels, our boat stands and blocks provide for various tops and weight ratings to accommodate just about any type of marine vessel. View our online guides, available both in text and video format, to learn how to properly store a boat and use Brownell products to your advantage.
If you would like to learn more about the Brownell Boat Stand System or need information on an authorized dealer near you, visit our website at www.boatstands.com or give us a call at 508-758-3671. We can answer any questions that you might have about the different types of boat stands and stackable boat stands, as well as provide you with details on the products and tools you need to give your boatyard an advantage over other local storage facilities.