Brownell Personal Watercraft Dolly for Maintenance & Storage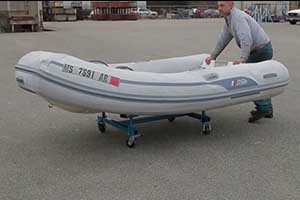 One of the best tools that you can have to take care of and store your personal watercraft is a Brownell small craft dolly. You can get one locally if you know where to buy boat stands or purchase them online from authorized dealers and sellers. There are many uses for a personal watercraft dolly. They are frequently used in showrooms, boat shows, and even at production facilities to help safely move small craft from one location to another without risking damage or injury.
Great for use in your home workshop or boat storage facility, either for repair and routine maintenance or seasonal storage. Non-marking wheels are great for indoor flooring situations and the legendary Brownell high quality TLC boat pads can be used with the personal watercraft dolly or your trailer components for even more protection. In fact, Brownell has a whole line of boat stands and components that can be used to protect just about any type of vessel you own.
Why Use a Personal Watercraft Dolly?
While your vessel might be small enough to pick up and move by hand from the high quality TLC boat pads on your trailer to the workstation, you want to reduce the risk of dropping it or hurting your back in the process. A personal watercraft dolly is safe and easy to use, making relocating small craft simple and quick when done with one of these heavy duty tools. It's excellent for making repairs, performing routine maintenance, or simply moving around your workshop or storage facility. It can be done by one person instead of requiring a second person to help pick it up and balance it by hand.
Another advantage is that this personal watercraft dolly is great for space-saving storage, as it can be wheeled just about anywhere. It can be moved indoors and outdoors, thanks to the four heavy duty wheels on the dolly, each capable of handling 500 pounds of pressure. Just make sure that before you store your personal watercraft for any length of time, whether in between uses or for the winter season, that you take the time to provide proper care for it just as you would any other type of sailboat or motorized vessel.
Featured Product: The Brownell Small Craft Dolly (SCD1)
If you are looking for a great tool to transfer your personal watercraft, dinghies or other types of small craft to and from the water or from one location to another at your storage and maintenance facility, look no further than product SCD1, the Small Craft Dolly, at Brownell Boat Stands. Our personal watercraft dolly features the traditional painted blue finish and has a heavy duty frame and All-American construction designed to withstand up to 2,000 pounds or 900 kilograms. It is easily adjustable from 6-26 inches, designed to work with different sizes of watercraft, and you can get it if you know where to buy boat stands in your area or online.
Basic Personal Watercraft Care Guide
While it is important to read the manufacturer's guidelines regarding cleaning, maintenance, and any chemicals that you might want to use to maintain your vessel, there are some basic care tips that you can use regardless. It's a good idea to get into a good care routine to properly maintain your PWC for many years to come. If you know where to buy boat stands in your area and have already shopped for trailer components, high quality TLC boat pads, and of course, the Brownell personal watercraft dolly, the chances are good that you know where to go to get cleaning supplies, PWC boat covers, and other important gear.
Start by cleaning your personal watercraft using fresh water. The goal is remove any algae, salt build-up or dirt before putting it away for any length of time to prevent damage. Gently washing your PWC by hand – instead of using a sprayer at the local car wash or even on your own property – is the best approach. Clean and dry your personal watercraft before covering it with a coat of approved wax. Any metal surfaces should be lurbicated with oil to prevent corrosion. Disconnect the battery, fill up the tank with fuel, and use a stabilizer to prevent condensation prior to winter or long-term storage.
Why Use Fuel Stabilizing Treatments?
Did you know that deterioration of fuel can occur as quickly as two weeks? If you use a fuel stabilization treatment whenever your personal watercraft will be stored for two weeks or more out of habit, then you will make great strides at protecting it from deterioration. Every little thing that you do to protect your PWC will protect your investment and provide you with many more fun days out on the water in the future.
Get Brownell for Best Results
If you want to protect your personal watercraft or any other type of vessel, your best bet is to get Brownell products. You can buy them from authorized dealers in your local area. If you need to know where to buy boat stands near you, you can call us at 1-508-758-3671. Trailer components, stackable sailboat stands, pontoon dolly, personal watercraft dolly and even our high quality TLC boat pads will all work together to protect your boat, regardless of the type of the size.