Brownell Boat Stands: What You Need to Know About Used Boats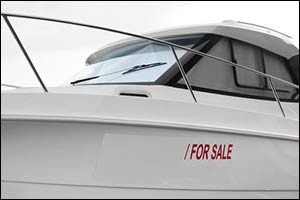 Deciding to buy a used boat can be a great way to get the boat of your dreams without totally breaking the bank. The amount of work that you will need to do to get a used boat into optimum condition can affect the price. However, before you start shopping for used boats, you should make sure to learn a thing or two about what to look for – and what to look out for – when it comes to buying a used vessel. Take your time to make sure that you get it right. Don't rush into a purchase until you have done the due diligence of checking everything out. Follow our tips here for more information on shopping for a used boat.
Brownell boat stands, engine handling products, staging ladders and trailer components can all be used to help you get your brand new used boat in tip top shape. Make sure to figure out how many boat stands you will need to properly support the vessel, depending on the size and shape, as well as the type of boat, whether it be a motor boat, personal watercraft, yacht or sailboat. Visit the Brownell boat stands website for a free guide that will help you learn about proper storage and staging of your new vessel while you prepare it for fun out on the open sea.
Getting Started: What You Need
Before you start hitting the marinas and boat yards to look at used boats, there are some things that you will need to bring with you. First and foremost is a digital camera. Take pictures – lots of pictures. Take pictures outside the boat and inside the boat. Take pictures of the engines, the upholstery and every inch of that boat. You might miss things when you are there in-person, so it pays to use a good quality digital camera to take a hundred or more images of each boat so you can evaluate it closer at home.
You will also need some basic tools that you can use to check out the vessels that you will be considering for purchase. However, the first thing you want to look at is the HIN, which is the boat version of a VIN found on vehicles. The Hull Identification Number will be located on the starboard side of the boat. When you look at the numbers, they should be rounded and smooth and look like they were stamped right onto the hull. If the number are written onto the hull or on the gel coat, this might be the sign of a stolen boat or that major repairs were done in this crucial area.
Whether you have doubts or not, you should always contact the manufacturer to find out if the HIN that you recorded matches with the same boat model. You can also double check the HIN with the local motor vehicles department, state police and the U.S. Coast Guard if there are any problems with the HIN just to be sure. Boats can be seized and dry docked if the HIN does not match the boat records registered with authorities.
Inspect the Boat: Where to Look
The next step is to do a walk around on the boat and look at all of the sides. Check to see if any repairs were done and look at the overall condition of the boat. If repairs were made to the boat, the work should be top notch to avoid any issues out on the water. For example, check out the lines on the hull to make sure that the line is in its proper shape. A bad repair will usually have issues in the way that the fiberglass was put back together and you don't want that. In many cases, cheap repair jobs that are noticeable can be indicative of cheap repairs jobs that you aren't able to see. Beware of boats that have shoddy, visible repairs.
Also make sure to check for any discolorations in the gel coat. For example, if the rest of the boat is shiny but there is a weird tint in some areas, a repair was most likely done in that area. See if the finish on the hull is smooth or shiny, or if it has a rough finish. In some cases, a rough finish will indicate that the boat was just repainted or repaired. A cheap repair job usually yields a cheap paint job and poor replica of the original factory finish.
While you are looking at dry docked boats in a boat yard or storage facility, make sure to take note of the products they are using for support. Brownell boat stands, trailer components, staging ladders and engine handling products will yield the best results. Poorly made boat stands can cause further damage to dry docked vessels that will cost you a lot to repair.
Hire a Pro for Best Results
If you are thinking about buying any of the boats that you have seen, consider hiring a professional to come out and take a look before you exchange any money with the owner. A professional can usually spot things that you are unable to see and can save you a lot of heartache and repair costs down the road by telling you whether or not the boat is a good purchase.
To find out more about Brownell boat stands and the Brownell boat stand system, give us a call at +1-508-758-3671. Our products are made in America from top quality American steel to provide you with long-lasting, great-looking, durable results. Contact us today or visit our website to use our boat stand selector tool to find out which products will work best with your unique situation.