Brownell Boat Stands: What is Needed to Winterize Your Boat?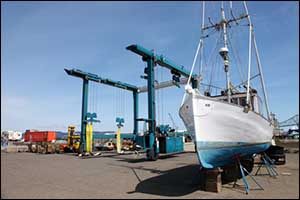 While it can take some time to prepare your boat for the winter season properly, you can reduce the amount of time spent working on your boat and putting it to bed if you have all of the tools, equipment, and products necessary to get the job done right. Winterization is an essential part of owning a boat. You could pay your local boatyard to do it for you, but that could cost upwards of $1,000 depending on the type of boat that you own. If you already have all of the sailboat jack stands and keel stands or galvanized boat stands and trailer components you need to transport your boat from the marina and to your storage space, then you have a good start on getting the safety and support tools ready for winterization.
What Other Tools are Needed?
In addition to having the right type of boat stands and keel stands to support your sailboat or motorboat, you also need to have some essential hand tools and a few supplies to take care of your boat and your boat's engine. It is also a good idea to have a place where you can work on your boat and take a break if you need to do so. A garage, an indoor boatyard storage, or even under a carport, if it isn't too late in the season, will do the trick. Make sure you have proper ventilation for safety and running water to help you with the cleaning. While one person can do the work, it can be helpful to have someone else around to assist with setting up the sailboat jack stands, handling the trailer components, and making sure that your boat is safe while it is out of the water.
Before the Boat Gets on Dry Land
When you take your last trip out on the water, you can start prepping your boat for the winter. It is important to prep the fuel supply and treat it for storage during the last week of use. While some boat owners will just add a fuel stabilizer and run the engine a bit before putting their boat into storage, you will get a lot better results if you allow the stabilized fuel to run through the tank, engines, and all feed lines before you put it away for the season. Go ahead and add the stabilizer during your final fuel-up of the season. You want the engine to "ingest" all of that stabilized fuel to get the best mix of the chemicals inside the tank. If you are using E10 fuel, winterizing and stabilizing the fuel properly is extremely important to protect your boat during the off-season.
Hauling Your Boat to Storage
Do an annual check of your boat trailer and all trailer components, including TLC boat pads, to ensure that everything is in good working order before you get your boat to haul it off to winterize it and put it into storage. Inspect all of your boat stands that you will be using during the maintenance process, including galvanized boat stands, sailboat jack stands, and keel stands, as well as any other types of support. Smaller personal watercraft can be moved and stored on boat dollies inside of your garage or storage facility. To make sure you get the right boat stands, keel stands, or boat dollies for your vessel, use the Boat Stand Selector at www.boatstands.com or speak with a representative directly.
Cleaning Your Boat
While much of the winterizing process is dedicated to cleaning and treating the mechanical aspects of your sailboat or motorboat, it is also important to ensure that everything else gets a good cleaning to prevent mold, mildew, pest infestations, and other types of damage. Wash down the exterior of your boat, removing any plants, mussels, or other creatures that may have attached themselves to the hull. Cleaning the exterior and then polishing it with a protective material can really help to ensure that your boat does not become damaged during the winter months. Of course, covering your boat with a custom boat cover, one-size-fits-all cover solution, or shrink wrapping it will also go a long way toward making sure that your boat looks great when the snow and ice melt away. Take care to clean seats and remove all of your belongings from the boat before you put it up on sailboat jack stands or motorboat galvanized boat stands to begin the winterizing process.
Follow the Recommendations
Make sure to read your owner's manual and read over the manufacturer's recommendations for winterizing your boat. Each boat is different, and there are unique requirements that you need to meet as a result. If you aren't sure or if the directions aren't clear, you can consult with a boating expert or call the manufacturer direct for clarification. Don't ever just assume. There are different needs for a two-stroke outboard motor compared to an inboard engine, as well as the size and type of motor on your vessel.
The same is true with boat stands. Take advantage of the Brownell Boat Stand Selector on our website or contact our office at 508-758-3671 to find an authorized dealer near you. It pays to make sure that you have all the right trailer components, galvanized boat stands, sailboat jack stands, and keel stands to protect your boat when it is out of the water.