Brownell Boat Stands: Top Storage Options for Outboard Motors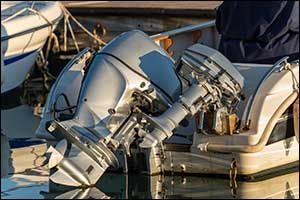 When it comes time to choose a boat stand for your motorboat, it is essential to only use top quality boat stands and keel support. The answer for this is easy, as Brownell boat stands are by far the best in the business. Expertly made by professional craftsmen in the USA using only the best American steel, boat owners and marine businesses around the globe have come to trust the Brownell name. In addition to ensuring that your boat is properly stored and protected when out of the water with the proper motorboat stands, it is also important to take good care of your outboard motor.
Check the Owner's Manual
Before you take ANY advice that you read on the internet or get from well-meaning friends, take a peek at the owner's manual for your outboard motor or check the website of the manufacturer to see if there are any specific needs that must be addressed. You should provide the required maintenance anytime you will be storing your motorboat for any length of time. Winterizing services may also be required in addition to regular maintenance, depending on where you live and the time of year that you will be storing your engine.
Look specifically for a good fuel conditioner that your manufacturer approves. This will help to stabilize the fuel while in storage and prevent condensation of water and other foreign bodies. That way, when you start your engine the next time you take it out, you won't have to worry about anything gumming up or not working correctly after sitting still so long. Fuel conditioners help to prevent fuel from breaking down and causing issues within the carburetor, fuel lines, and other parts of your engine. This is one of those times when an ounce of prevention is worth a pound of cure.
Proper Engine Handling Equipment
While you might think that Brownell boat stands are the only thing that we sell, the truth is that in addition to our full line of top quality boat stands, we also sell engine handling products. We have designed these products to work with a variety of different engines to provide safe and secure handling for workshops, storage, and showrooms, depending on your needs. Our team of marine industry experts has designed products that feature ergonomic handles and specialized casters that allow for easy movement and locks for safe storage.
Made from a heavy-duty steel construction and our traditional painted blue finish, you can expect long-lasting strength and durability with all of our engine handling products. Just as you would choose a boat stand from a wide range of motorboat stands and keel support products, it is essential to select a storage rack for your outboard motor that will provide you with the results that you require. Choose from large and small systems based on your needs, including a single-unit stern drive rack, outboard storage rack, small outboard dolly, large outboard rack, stern drive rack for up to four units, and our heavy-duty stern drive rack for up to seven engines at once.
Other Engine Maintenance Tips
Many boat owners will also use fogging oil to prevent corrosion from causing damage inside the engine during storage. Again, make sure to check the manufacturer's recommendations before using. If approved, remove the spark plugs and spray inside of the holes to ensure proper lubrication for all cylinders and rings. The flywheel should also be rotated a few turns to help spread the oil around inside before you return the plugs. Check the gearbox and drain it completely before filling it with fresh oil. Remove the propeller and check it for damage. Not sure what to look for in engine storage? Take it to a pro or back to the dealer.
The battery should be inspected and cleaned before storing it in a cool, dry place. Never keep the battery inside the boat during storage. Before placing the engine on a storage rack or putting your boat away on top quality boat stands from Brownell, make sure to determine the best way to store it. You can choose a boat stand system via our website based on the type, size and specifications of your vessel and you can also get professional advice by calling one of our team members or by visiting an authorized dealer near you. The best way to get the right Brownell boat stands and marine equipment is to consult with a pro.
Ready to get the best gear for your boat? Contact Brownell Boat Stands by calling 508-758-3671. You can also use our website to help choose a boat stand and keel support system for your vessel or locate an authorized dealer in your area. Watch demonstration videos, download brochures, and read our helpful tips on proper use. You can trust Brownell to provide you with top quality boat stands and marine equipment to suit your needs.