Brownell Boat Stands: Storage Options for Boats in Off-Season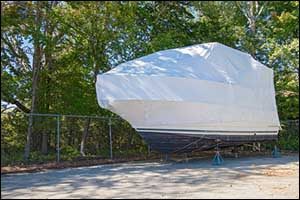 When it comes to storing your boat for the off-season, it pays to consider all of your options. Whether you plan to keep it on your property, at a storage facility, in a professional boat yard, or out on the water, it is important to learn all you can about each solution to find the one that best suits your vessel, situation, and budget. Whichever solution you choose, make sure to consider Brownell boat stands to provide your vessel with the support and stability it requires to protect it from damage while out of the water. Choose a boat stand based upon the make and model of boat that you own, including motorboat stands; nested boat stands for sailboats; dollies for personal watercraft; as well as all the keel stands and benches required to support your vessel effectively.
Option #1 – Store Your Boat at Home
If you have a good sized property and have a space for your boat, you can always store it at home. While some boat owners prefer to build a special garage or shed for their motorboat or sailboat to use in the off-season, others will either store it in their regular garage or keep it outside in the elements. Outdoor storage is a common option, but it is important to make sure that you properly winterize and cover your boat to prevent winter weather and UV damage. This is a great low-cost solution for boat owners on a budget, providing you have space. All you need to do is purchase the boat stands, keel stands and benches needed to support and stabilize your boat and the products and tools required for winterizing.
THINGS TO CONSIDER – Make sure there aren't local laws, rules or regulations that might prohibit the storage of a boat on your property. Homeowners Associations (HOAs), community regulations, neighborhood covenants, and county or state laws might have something to say about it. An outdoor storage means exposure to the elements, pests, theft, and vandalism. Unless your property is gated, locked, and secured, you may want to invest in video cameras for surveillance and other security systems.
Option #2 – Store Your Boat at a Storage Facility
Most storage companies now provide space for RV and boat owners to store their property during the off-season. Some offer large indoor storage opportunities that might work with your vessel, while others restrict the storage to outdoors. The upside of outdoor storage at a storage facility versus storing your boat outdoors at your home is the added security. Keypad entry, large heavy-duty secured gates, security services, on-site management, and video surveillance are just some of the advantages associated with using a storage facility. You will still need to get a boat cover, tarp, or consider shrink-wrapping your boat if it is stored outdoors to protect it from UV exposure and the elements, but many of your other outdoor storage concerns will be addressed.
THINGS TO CONSIDER – The cost associated with keeping your boat at a self-storage facility can vary, depending on where you go. Make sure to take a tour of the property, ask questions about security, pest control, and surveillance before you make a decision. Ask about using Brownell Boat Stands, such as nested boat stands, keel stands, and benches. Choose a boat stand that will be strong enough to stand up to extensive outdoor use in your area. The stackable or foldable boat stand solutions available from Brownell make the stands easy to store when not in use.
Option #3 – Docking Your Boat in the Water
Depending on where you live, this could be a great solution. However, if you live in an area where boats just can't be stored in the water without suffering extensive damage or destruction, this might not be an option. Check with your local marina to find out about storage opportunities on the water. This can be a great solution if you will be taking your boat out during the winter months. If your region rarely or never has temperatures that fall below freezing, docking your boat on the water, even if you won't be using it regularly, could be a smart decision. You will still want to cover and protect your vessel, winterize it according to the manufacturer's suggestions for this type of storage, and purchase an appropriate insurance policy that will provide for damage at the marina.
THINGS TO CONSIDER – Depending on where you live, docking fees can be expensive. One of the advantages to putting your boat away during the off-season is reducing or eliminating pricey docking fees. So keeping your boat at the marina could be counter-productive. Most marinas charge at a daily rate, but it can still be expensive if you get a monthly rate deal. Exposure to the elements while out on the water is always a risk, but rough waters could cause damage or erosion to the paint and corrosion or rust is a bigger concern. Barnacles and other aquatic pests can also be a problem, so it is important to take this into consideration before making a decision.
Choose a Boat Stand
If you are interested in learning more about our folded and nested boat stands or if you would like to know the number of keel stands and benches you need for your type of vessel, contact Brownell Boat Stands by calling 508-758-3671. We can answer any questions you might have, provide you with information about our Boat Stand Selector tool, and help you find an authorized dealer near you.