Brownell Boat Stands Products for Retail: Showrooms & Events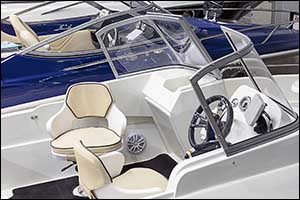 Marine industry professionals count on the Brownell name for top quality sailboat and motorboat stands, as well as our high quality TLC boat pads. However, our dependable and durable products can also be used in showrooms, boat shows, workshops, and even at production facilities. We can help business owners learn how to choose a boat stand or marine product that will exceed their expectations, such as boat dollies, alternate marine dollies, engine handling products, and more. In addition to providing quality equipment that can be used to help showcase your boats and products, Brownell also offers a full line of marine tools that can be used to move, transport, and store your inventory.
Marine & Alternate Marine Dollies
Brownell offers a wide variety of quality dollies that can be used for just about any type of vessel. Our Small Craft Dolly is the perfect choice for smaller boats, including personal watercraft, dinghies, small sailboats, and other small craft. Heavy-duty and designed with our non-marking wheels and legendary adjustable screw pads like the ones we use on our Brownell motorboat stands, these dollies can support up to 2,000 pounds. Our Pontoon Tritoon Dolly is designed for providing safe handling of today's pontoon vessels and high-performance sport boats. Offers increased ground clearance and an open center section for use with vessels that feature lifting strakes, foils, and other below-the-waterline control surfaces. Dual 24-inch long bunks distribute the vessel load, and corner bumpers provide soft and protective surfaces for your vessel, handling a load capacity of up to 3,000 pounds.
Heavy-Duty Steel Boat Dollies in either traditional blue painted, or hot dip galvanized, as well as Maxi Heavy-Duty Boat Dollies and our BDXL Extra-Large Boat Dolly come in capacities that range between 8,000 and 35,000 pounds, depending on your needs. All feature our trademark non-marking wheels and adjustable screw pads with adjustable heights and widths to meet all of your showcase and workshop needs. Brownell has built a solid reputation within the marine industry and is used by professionals all over the world. Our line of adjustable alternate marine dollies works with all of our top of the line products and high quality TLC boat pads to create solutions designed to protect and support your vessels.
Boat Racks & Display Racks
All of our Brownell boat racks are designed for use with forklifts and hydraulic trailers. They can be used to assist with wash downs and servicing of all marine vessels. They are available in a wide range of sizes, beginning at 28-inches to 52-inches in height. Learning how to choose a boat stand that can be used to provide extra stability during use will help you to maximize the potential of these boat racks. Choose from the traditional painted blue finish, or hot dipped galvanized, depending on your needs. Excellent for fast and efficient set-up, these racks can be quickly nested together and stored compactly when not in use. Check with the manufacturer regarding the placement of any boat racks or stands for best results.
The Brownell display rack is designed for showrooms, boat shows, and other professional situations to display a vessel for consumer browsing or showcasing. It is designed to provide a very safe, simple, and discrete solution that will help enhance the appeal of your marine products. The unique four pad design disperses the load of the boat to reduce stress on the hull, and the stable footprint provides keel and righting support within the need for additional outboard support. Created to reduce trip hazards and allow for more boats to be displayed closely together to maximize showroom space, this rack is ideal for use with bow-riders, walkarounds, center consoles, cruisers and cuddies between 24-45 feet in length.
No Scratch, No Slip TLC Pads
Many of our dollies and display racks are designed to take advantage of the benefits associated with using our high quality TLC boat pads. Our pads eliminate issues with scratching and slipping to provide you with the best results possible. Brownell's TLC boat pads provide all of the "tender loving care" that a boat needs to protect its finish, provide drainage, and eliminate any moisture from the hull. Made in the USA, the TPE surface of our pads will protect the delicate finish of any boat, including epoxy coatings, gel coatings, and wooden crafts. All fasteners are included and our high quality TLC boat pads can be used with any of our sailboat and motorboat stands, trailer accessories, alternate marine dollies, and other equipment.
If you are interested in any of our professional products and accessories, give us a call at 508-758-3671 and speak with one of our representatives. We can help you learn how to choose a boat stand, dolly, display rack, or high quality TLC boat pads based on your individual needs. Call today and learn more about how Brownell can help you maximize results on your showroom or boat show floor.