Brownell Boat Stands: Moving and Storing Trailer-able Boats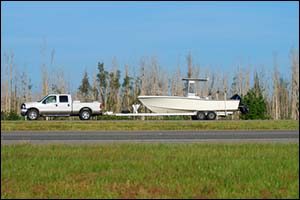 One of the biggest advantages of owning a vessel that can be easily transported on a trailer, is that you have the freedom and the ability to load up your boat and check out different areas to help extend your boating season. However, before you get your motorboat loaded properly on a trailer with trailer wedge stands and pads from Brownell, and get out on the highway, you might want to take some time to learn the rules of the road. In between trips, or during maintenance and storage, you can count on motor boat stands, engine racks for marine engines and other top quality products and tools from Brownell Boat Stands.
Hauling on the Highway
You may have experience taking local roads from your boat garage or storage to the local launch, but if you haven't taken a long distance trip with your boat and trailer yet, you will want to take some time to get prepared. The speed at which you will travel on the highway will be much different from on side roads, local roads or even slower paced stretches of local highway. High speeds create higher heat for trailer tires, so it is important to do a pre-trip inspection ahead of time.
If you have any tires or bearings that are suspect, replace them – don't even take the chance. Stop along the way and check to make sure that your boat is still securely placed on trailer wedge stands and pads, just as you would check it during storage on motor boat stands. Bring replacement items along, such as spare tires, bearings and wheels, as well as portable Brownell boat stands just in case you need to remove it from the trailer for repairs. Check the air in your tires before you start driving and keep the pressure at the manufacturer's recommended levels.
Protecting Your Vessel
The high speeds of long distance travel will make it next to impossible to keep plastic tarps or canvas covers on your boat during the trip. Look into boat covers that are designed for your specific make and model, as well as covers that are meant to be used during travel at highway speeds. You will want to protect your boat from damaged caused by wind, weather and UV rays, so don't overlook this important part of boat ownership. Every thing you do, from placing your boat on proper Brownell boat stands to using quality engine racks for marine engines during maintenance, is about protecting your investment. Don't go cheap or lazy when it comes to getting a proper cover for your boat during transportation.
Taking Care of the Equipment
In addition to protecting the exterior and interior of your vessel, you will also want to take care of any equipment or bimini tops during transport. Collapse and lower any covers to the lowest point possible and secure them carefully against the windshield or the gunwale. Support braces on your bimini are meant to stand up to boat speeds, not highway driving speeds and wind conditions, so it is important to protect this part of your boat. Stop and inspect to make sure that everything stays secure throughout your trip when you check the tires of your trailer and other areas of your boat.
For the safety and security of your equipment, make sure any auxiliary motors or electric trolling motors and stow them away securely during long trips. You can add locks or supports to both if you want to keep them installed on the boat. To prevent theft, make sure that electronics can be easily removed and stored inside your vehicle or taken into hotel rooms for the night during travel or when making a stop. Make sure your anchor is stowed properly and securely to prevent damage caused by shifting or becoming loose. Safety devices and other lighter equipment should be properly stowed or secured during transport or they will blow out on the highway.
Trust Brownell Boat Stands
If you are looking for storage or transportation equipment to use with your vessel, trust the line of products available from Brownell Boat Stands. Whether you need trailer wedge stands and pads, engine racks for marine engines, boat dollies, motor boat stands or keel support stands, you can trust the Brownell Boat Stand System. Visit our website to use our boat stand selector tool or give us a call at 508-758-3671 to find an authorized dealer near you.