Brownell Boat Stands & Marine Products for Professional Yards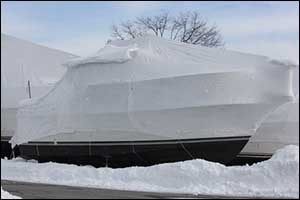 Operating a successful marina boat yard is more than just putting a secure fence around a flat parking lot and opening it up for business. Top quality marine products, tools, and equipment must be used to provide customers with the services and storage that they require to effectively maintain and protect their vessel on dry land. Independently certified boat stands, keel supports, boat dollies, and racks should all be used to ensure safe handling. Brownell Boat Stands are an investment in the future of your marine-based business, whether you run a marina, boat yard, repair shop, or other maintenance facility. Our patented foldable sailboat stands and stackable motorboat stands help to save space when not in use and provide your customers with quality results.
All Types of Boat Stands
It is essential that your marine business ensure that you have all of the best marine products and equipment available for your customers. Stackable motorboat stands and foldable sailboat stands, as well as proper keel support and staging ladders, are all required to provide a safe and stable dry dock solution for every type of vessel. Brownell Boat Stands is an industry leader, the innovator of the modern boat stand, and a quality provider of dependable marine equipment. Our independently certified boat stands provide a safe working load of 20,000 pounds or 9,100 kilograms. We have earned a solid reputation, and our products are known and used by professionals all over the world.
The Brownell Boat Stands System includes a variety of products that are used to support the weight of the boat as it rests on the keel and balance through the use of boat stands. The stands range in size from 18-inches on up to 132-inches, depending on the type and style. Specific stands for sailboats and motorboats are available, as well as boat dollies and other handling and storage options for pontoons, personal watercraft, and other specialized vessels. Choose from a variety of keel stands, benches or blocks to support the weight of your vessel and stackable motorboat stands or foldable sailboat stands, based on your needs. To determine which Brownell boat stands are best for your vessel or the common types of vessels that you work with at your facility, use our online Boat Stand Selector at www.boatstands.com or contact our office directly to speak with a representative.
Boat Dollies & Racks
In addition to the popular Brownell boat stands, we also make a variety of boat dollies that are designed for use in workshops, marine businesses, production facilities, and event at boat shows or showrooms. Our non-marking wheels and adjustable screw pads make it easy to adjust and use these boat dollies for any type of vessel in any situation. We take pride in the quality of all marine products that we develop, manufacture, and sell at our Massachusetts facility. Choose from a small craft dolly, which is perfect for PWCs, dinghies, and other small vessels; our pontoon-tritoon dolly, which is made for standard pontoons, tritoons, and high-performance sports boats; the heavy duty dolly, a low profile dolly with a 2.5-inch ground clearance to handle boats up to 8,000 pounds; the maxi heavy duty boat dolly, which can accommodate boats up to 20,000 pounds; and the extra large boat dolly, which can handle boats up to 35,000 pounds and up to or beyond 50 feet in length.
Brownell boat racks are also built to accommodate a wide range of boat types and sizes. They are designed to be used with forklifts and hydraulic trailers, providing an excellent option for cleaning and servicing vessels at dry stack facilities. Sizes range from 28 inches high by 24.5 inches wide and 30 inches deep on up to 52 inches high by 34 inches wide and 48 inches deep. To increase stability, our Brownell boat stands can be placed on either side of the boat racks during use. Choose from our traditional painted blue finish, or hot dip galvanized options for all of our independently certified boat stands, dollies, and racks. Our boat racks were created to be used quickly and efficiently, allowing a strategic nesting option for storage when not in use. We also have a Brownell Boat Display Rack available, which is excellent for showroom or sales floor displays. Similar to our boat stands, make sure to consult with a representative about the placement and number of boat racks that should be used for best results.
Boat Lifting Systems
Another essential piece of equipment for any marine business is a boat lifting system. Our Brownell Boat Lifting Systems are designed to assist in the safe and easy lifting of boats to get them on or off of a trailer. Our hydraulic boat lifting system is by far the fastest means of removing a trailer from underneath a boat. This is used frequently for painting, repair, and storage. Made from heavy duty American steel, our lifting systems are protected with a hot dip galvanized base and upright, providing accommodations for vessels up to 25-feet in length and up to 5,000 pounds. Make sure also to take a look at our manual boat lifting system and trailer-mounted boat lift options for larger vessels or for boat lifting options that can be accomplished with just a single operator.
Get a FREE QUOTE for any of our independently certified boat stands, keel benches, boat dollies, and other marine products. Brownell Boat Stands have a solid reputation in the marine industry, and we work to maintain that reputation by continuing to develop and manufacture top quality professional equipment. To learn more about our foldable sailboat stands, stackable motorboat stands, boat lifting systems, boat dollies, and other marine products, give us a call at 508-758-3671. Our team can provide you with current pricing and information, as well as direct you to an authorized dealer near you.