Brownell Boat Stands: 8 Top Tips for Winterizing Your Vessel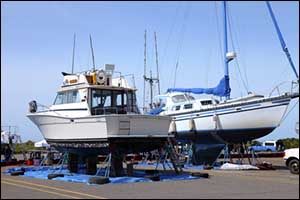 There is a lot of information "out there" about winterizing your boat. The reason for this is that it is one of the most important prevention measures that you can do that will add years of life to your boat, depend on which services you want to do and how well you can do them. No matter where you live, winterizing should be done each year to some degree, even in temperate waters. If you are busy and can afford to have someone take care of this work for you, why not? However, many boat lovers own a boat because they thoroughly enjoy every aspect of ownership, including preventive care and maintenance.
Tip #1 – Start by cleaning your vessel. As soon as you pull it out of the water using a boat lifting system or another method, make sure to hard-wash the hull. As you do this, check for any damage that may have occurred during the season. If your hull is fiberglass, go ahead and apply a coat of wax to protect against dirt and grime. Again, continue checking for cracks, dings, and any other type of imperfection that should be repaired before putting it up on sailboat or motorboat stands, and storing for the winter.
Tip #2 – One of the first steps in winterizing includes flushing your boat's engine with fresh water. Some boat owners prefer to do this while out on the water, while others prefer to do it on dry land. If you have an inboard motor or a stern drive, you can do a final flush with antifreeze for even more off-season protection. Make sure to get the right motorboat stands that are designed to work with a fit your vessel. If you need to learn where to buy boat stands in your area, visit our website or call the number below for an authorized Brownell dealer near you.
Tip #3 – Make sure to fill the tank with gas. Add some fuel stabilizer. Mix it properly by running the motor for at least five minutes. The next step is to shut off the fuel valve so you can run the rest of the fuel out of the engine. With an outboard motor, you just need to disconnect the fuel hose before running the remaining fuel out of the engine. All of this is done to reduce the possibility of condensation within the engine, which can cause corrosion and other damaging issues. Use Brownell engine racks to store and maintain outboard motors.
Tip #4 – Visually inspect the propeller and perform any repairs that are needed to get it in shape. If you require more advanced repairs for your propeller, seek the assistance of a professional. The more you can get done when your boat is out of the water in the off-season, the more time you will have out on the water when the weather turns nice again.
Tip #5 – While the carburetor is warm, after running the fuel out of the engine, you should apply fogging oil. At this time, you can also remove the spark plugs and spray the fogging oil through the spark plug holes inside to reach the cylinders.
Tip #6 – Remove and replace all filters, taking time to clear away any grease or grime.
Tip #7 – Take time for the interior area of your boat. Clean it. Dry it. Remove all debris and personal items. Also, remove the battery and any electronics that you have on board. Store them in a place that will protect them from seasonal moisture and freezing temperatures. If your boat has vinyl seats, make sure to protect them with the appropriate products. Use other cleaning and protective products as required to keep your boat in good condition during the off-season.
Tip #8 – Cover your boat. Whether you prefer to shrink wrap or use a tarp, make sure that your boat is covered and sealed. Before covering, it is important to ensure that the interior is completely dry to prevent moisture and condensation build-up during storage. Experts recommend having a small vent or two to prevent this from happening. If you are storing it at a boat yard, make sure they use quality motorboat stands, provide access to a powerful boat lifting system, and that you can use Brownell engine racks to store and maintain your outboard motors, as required. Ask about other off-season services that can help you to protect your vessel and get the most out of your boatyard experience.
Where to Buy Boat Stands
Year-round maintenance, storage, and servicing can be done confidently, expertly, and safely through the use of quality products and equipment from Brownell. Whether you require motorboat stands, sailboat stands, foldable stacking stands, a boat lifting system or our popular Brownell engine racks, it is important to know where to buy boat stands and products near you. You can call us at our Mattapoisett, Massachusetts location by calling 508-758-3671 to find an authorized dealer near you.