Brownell Boat Stand System: Top Tips for New Sailboat Owners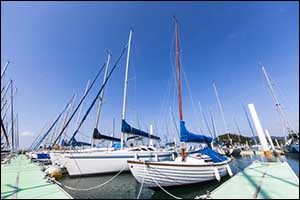 It can be exhilarating to purchase your first boat. Whether you prefer a motorized vessel or a traditional sailboat, there is a lot to learn before you get out on the water. When your boat is out of the water, make sure that you use high-quality yacht stands, and unique boat stands for sailboats to protect your investment. Foldable sailboat stands and pads are part of the popular Brownell Boat Stand System and are designed to provide all of the support and stability you require when your boat is on dry land.
Tip #1 – Take a Safety Course
Even if it is not required where you live or will be boating, it is important to take a safety course of some kind. If there are requirements for boating licensing and use, make sure to take the recommended course to avoid having to take duplicate classes. Not only will a safety course be informative, providing you with great ideas and tips that you can use to your advantage, but it can also help to reduce your boating insurance premium. Take time to learn the basic rules of the water so you won't become a hazard to yourself or any others out on the water.
Tip #2 – Watch and Learn
The best way to avoid becoming "that boat owner" at the marina is to spend some time watching and learning from more experienced boaters. When bringing your boat to the ramp for launch, it can be tricky to know the best way in and out of the area to avoid getting in the way of other boats. Once you see how to do it yourself, take care to launch your boat for the first time when the marina is less busy. For example, a crowded Saturday morning when everyone is jockeying for position is not the time to experience your first launch. Practice your trailer handling skills as much as you can before you head for the ramp, just to make sure you know how to handle it properly when the time comes.
Tip #3 – Use Technology to Your Advantage
While it might not work throughout your entire excursion, it is important to bring along a cell phone and keep it in a waterproof, airtight bag or container. Another good idea is to bring along a portable GPS. It doesn't have to be super expensive or have all of the bells and whistles, just something that you can use to track your course when you are out on the water. This will help you find your way back if you get lost in a new area or to find a new favorite spot when you return. Consider bringing along backup batteries, just in case your phone battery dies, and you need to call for help.
Tip #4 – Leave a Trip Plan
Make sure to tell someone that you will be going out on the water, where you will be going, how long you will be on your boat, who is with you, and when you expect to return. This can be extremely helpful if you get caught in a storm or run into problems that delay your return. It can help rescue efforts in the event of an emergency or help others contact you in case there is an urgent situation back home.
Tip #5 – Get a Boat That Suits Your Skills
While it might be tempting to buy a huge boat just like the one that you have always wanted, it can be a good idea to start out small. A small sailboat helps you to learn how to navigate on the water effectively and can assist you in learning the ins and outs of safe boat storage. You can practice learning how to support your boat on foldable sailboat stands or yacht stands when on dry land. You can also learn which boat stands for sailboats are best for your model. Visit the Brownell website to see all of the elements and options available in the Brownell Boat Stand System.
Get More Tips at Boatstands.com
You can learn about proper use of foldable sailboat stands, keel stands, and other support options at the Brownell Boat Stand System website. You can also read lots of other great tips for using sailboats, motorboats, and personal watercraft. If you have questions about our yacht stands or other boat stands for sailboats, give us a call at 508-758-3671. You can also use our Boat Stand Selector online or speak with one of our agents to find an authorized dealer near you.