Brownell Boat Stand System: Summer Boat Care Tips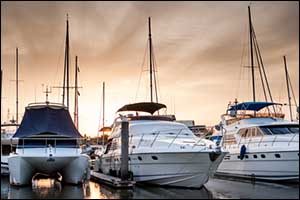 The number one goal of any boat owner is to reduce the amount of time that the boat is out of the water during the season. You should do everything you can to get all repairs and maintenance work done while the weather still prevents boating. That way, you will be able to be out on the water and enjoying your vessel as much as possible. That being said, there are some things that you can do throughout the summer and before your first launch that will keep your boat in good working order throughout the season. Preventive maintenance should be done in the fall and over the winter months if you don't have year-round boating in your area, but the tips provided here can and should be done periodically while in use.
If you need to remove your boat from the water for any reason, make sure to choose independently certified boat stands, such as the Brownell Boat Stand System. Designed with custom components in a variety of styles and sizes to accommodate anything from sailboats to motorboats, personal watercraft to pontoons, and everything in between. Our boat lifting system can be used to safely and efficiently relocate your vessel. Use our online boat stand selector to choose the right types of boat stands for your needs. All of our products are made in the USA from top-quality American steel, so you can trust that your boat will be safe when out of the water for maintenance or storage.
Preventive Maintenance and Care
Statistics show that nearly 10 percent of all boating accidents are directly related to maintenance issues, so the more you can do before you get in the water, the safer you will be during the boating season. Most people don't realize how much maintenance is required and how important it is to get the right types of boat stands before they buy a boat, so it is helpful to get the low down on what work is needed, especially if you are a first-time boat owner. You can also review the boating manual that came with your boat to look for any specific instructions related to the make and model of your vessel. Some manufacturers have different cleaning and maintenance requirements than others, so it pays to take the time to review.
Some of the tasks that you will need to do before use can include:
seasonal cleaning
changing the oil and filters
check the propeller
do a complete systems check
inspect the exterior of the boat for damage
Some of this work can be done when your boat is already in the water, but other tasks will need to be done on land. Again, make sure that you only use top quality, independently certified boat stands, as the safety of your vessel depends on it. Review the different options available in the Brownell Boat Stand System to ensure that you are not only purchasing the right types of boat stands and accessories but that you are using them as they were intended. A boat lifting system will be required to move your boat from the trailer to the boat stands and back again, so make sure you have the right type for the size and style of vessel that you own.
Cleaning Your Boat for the Season
The wipe down and clean-up that you do after you take your boat on the water is considered to be ongoing maintenance, something that should be done every time you use your vessel. The more pro-active you are about cleaning up food and drink spills, fishing debris and waste, as well as basic trash from a typical outing, the easier it will be to keep your boat clean and ready-to-use all season long. However, the type of cleaning that we are talking about here is more extensive and includes cleaning the exterior as well as the interior of the boat. Hulls that are covered in algae can cause an increase in fuel consumption by as much as 30 percent, so it is in your best interest to clean it on a regular basis.
Make sure only to use marine-approved cleaners. They are designed for safe use on and off the water, and won't damage your boat. Again, make sure to double-check with the manufacturer's recommendations as well, in case a specialty cleaner is required. Cleaning prevents algae, salt, and residue build-up from causing damage to the clear coat of your vessel. A basic wash down will go a long way toward protecting your boat throughout the boating season, so make sure to do it every time you go out for best results. Supplies for the whole season will likely run you about a hundred bucks, which isn't much considering it protects your investment and will provide you with a lot of enjoyment for many years to come.
Get the Brownell Boat Stand System
The best way to protect your vessel when it is out of the water is by using the best equipment available for lifting, trailering, and storage. The Brownell Boat Stand System is designed for use with just about any size or type of boat and can be customized to suit your specific needs. Visit our website to see the full line of products, including our boat lifting system, TLC pads, and independently certified boat stands. You can use our online Boat Stand Selector to determine the best types of boat stands for your vessel. Give us a call at 1-508-758-3671 to find an authorized dealer near you.