Brownell Boat Stand System: Reasons to Winterize Your Boat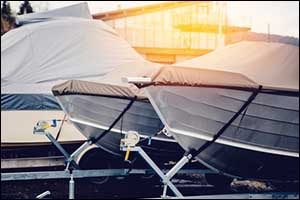 Boat owners everywhere need to know the reasons why they should always take care to maintain and winterize their boat each year. The number one reason is so that the boat will be ready to use right away in the spring. The boating season is so small in some areas that any time wasted with your boat at the repair shop or hanging out in the boat yard waiting for repairs can be a huge loss. Take the time now to invest in properly maintaining and winterizing your boat so it will be "good to go" as soon as the warm weather hits and you have time to get it out on the water.
Where Will You Store It?
The first question you need to ask yourself is where will you store the boat. Some people are blessed with enough storage space in a home garage or carport where they can store their boat on flat ground and keep it safe from snow, ice, wind, and winter weather. Others may need to rent or lease space at a local boatyard or storage center. Some may choose to keep their boat in the water at a marina, depending on their location and the type of winter weather that they get. If you are storing your boat on land, the next thing you need to consider is the type of marine industry stands and keel support that you will use to keep it safe.
The Boat Stand Selector
Brownell boat stands has an online boat stand selector that can be used to help choose the best stands for your vessel. Whether you have a huge yacht, small sailboat, mid-sized motorboat or only require boat dollies for personal watercraft, we can help you find the best solutions to keep your boat safe when it is out of the water. Marine industry stands vary in size and quality, depending on the brand name behind the products. Brownell invented the boat stand as we know it today and has earned a solid reputation for creating some of the best quality stands in the business. Designed to work with any type of vessel, make sure to visit our website or contact us directly to find an authorized dealer near you.
What If You Don't Winterize?
Once you nail down where and how you will store your vessel over the winter, it's time to think about winterizing your boat. If you don't winterize your boat before storing it for the off-season, the best case scenario is that you will have a lot of maintenance, repairs and work to do when you take it out of storage. That could delay your ability to get out on the water and enjoy the good weather. The worst-case scenario involves major damages that could cost you a lot in repairs and replacement of essential parts and components due to your own neglect. While there are a lot of steps involved in properly winterizing a boat, the effort that you make now will be worth it come spring when you take your boat out with the peace of mind in knowing that you did everything you could to have it ready to get out on the water.
Some of the common issues associated with not winterizing a boat include:
dead battery – due to losing charge or being frozen in the low temperatures
cracked gear case – caused by exposure to snow and water
crankshaft bearings and wiring issues – from condensation formed by cold temperatures
cracked manifold – also due to condensation formed by cold temperatures
engine damage – gummed up engine caused by condensation in the fuel tank
interior and exterior damage – due to cold temperatures and winter weather, including snow, ice, wind, hail, and freezing rain
Trust Brownell Boat Stands
In addition to not winterizing your boat and preparing it properly for winter storage, you can also cause damage to your boat if you don't support and store it properly. Visit the Brownell boat stands website and use our boat stand selector to locate the marine industry stands that are designed for use with your type of vessel. You need to know the make, model, and size of the boat, whether it is a sailboat, motorboat, pontoon or personal watercraft. The boat stand selector will help you determine how much keel support you require and how many stands are needed to support the weight and provide stability for your boat.
Give us a call at 508-728-3671 at our Mattapoisett, Massachusetts headquarters. We can provide you with a list of authorized dealers near you and answer any questions that you might have about our full line of marine industry stands and equipment.