Brownell Boat Stand Selector Tool for Yacht Stands & Storage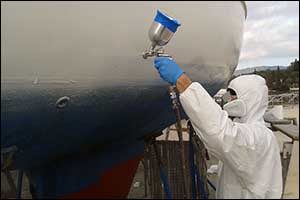 We talk a lot about personal sailboats, motor boats, and even personal watercraft on our blog, but Brownell Boat Stands also provides yacht stands, and keel stands for much larger vessels. If you are in the market for top quality marine industry stands to use for protecting your boat while it is out of the water, make sure to consider the Brownell Boat Stand System for all of your support and storage needs.
Made from top quality American tubular steel right here in Southeastern Massachusetts, the Brownell name is well-known throughout the marine industry by professional marine-based business owners and individual boaters alike. We are proud to have earned a solid reputation for designing and manufacturing reliable, heavy-duty yacht stands, keel stands, and other innovative industry equipment.
Brownell Designed the Boat Stand As You Know It
When it comes to marine industry stands, Brownell is the top name in the business for a reason. In 1954, David "Fred" Brownell revolutionized the way that marine vessels were stored with his invention of the Brownell boat stand. Our boat stand system has proven to be the fastest, safest, and most reliable method for storing boats out of the water. Designed to work with sailboats, motorboats, and other types of marine vessels, our Boat Stand System allows boat yards to store more boats per square foot, maximizing space and increasing revenue potential.
When it comes to larger vessels like yachts, the Brownell boat stand selector is a helpful tool that can provide information regarding the type, size, and the number of boat stands and keel stands required to support and stabilize boats of any size. Wherever you go around the globe, you can see the trademark blue-and-orange products of Brownell Boat Stands used in professional boat yards and marinas. When not in use, the Brownell boat stands stack and nest for quick and easy storage, reducing the amount of space required for boat stand equipment.
Innovative Design and Unbeatable Customer Service
When you choose to use Brownell boat stands for your personal vessel or professional boat storage facility, you gain several decades of innovation, knowledge, experience, and craftsmanship that stands behind every product we make. We take a lot of pride in our ability to create quality products for our customers. Every product and component that we make is made right here in the USA by a team of skilled American craftsmen using the highest quality materials. This is how we are able to guarantee results and deliver products that exceed expectations.
Since Brownell invented the boat stand, every single product that we design and manufacture are created with the goal of making boat handling more safe and efficient. This is just one of many reasons why our products have earned a solid reputation and are used by professionals all over the world. Other features of our yacht stands, keel stands, and other marine industry stands, and equipment includes a lifetime warranty, superior welded construction, a solid steel ACME threaded adjustable rod, and the option of paint-dipped or hot dip galvanized coatings for extra protection in marine environments.
Safe and Efficient Design Features
Each of our boat stands and keel support products has been independently tested and have a certified safe working load of 20,000 pounds or 9,100 kilograms. They can be stacked or nested, depending on the type, for easy storage when not in use. At Brownell, we have sizes that will fit virtually ANY boat, from extra large yachts to personal watercraft vessels. Our unique design features allow boat yard and marina owners to store more boats than any other boat stand system available. Choose from a wide range of top quality products, including trailer wedge stands and pads, engine racks, trailer components, boat lifting systems, and our well-known and widely-used Brownell Boat Stand System.
Contact our team at 508-758-3671 to learn more about our products or to find an authorized dealer near you. We can answer any questions that you might have about our full line of marine products and help you find solutions to maximize space at busy boat yards and marinas. You can also use our boat stand selector tool online at www.boatstands.com to find the right size, type, and the number of boat stands and keel stands required for a specific vessel.