Brownell Boat Stand Selector: Prepare Motor Boat for Storage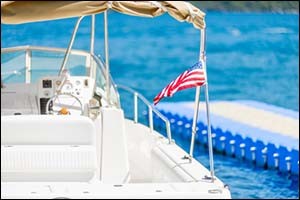 There are lots of reasons why you might be storing your boat, either for the winter season or because you won't be able to get out on the water for one reason or another. There are also a lot of different types of boat stands and boat lifting systems that can be used to help protect your boat when taking it out of the water and putting it into storage. The best way to find out which top quality boat stands are best for your particular type of vessel is to use the Brownell boat stand selector. You can use the online selector via the www.boatstands.com website or you can contact someone at Brownell to help you choose the best products. If you are new to purchasing boat stands, make sure to talk with a customer service agent or visit a local dealer for best results.
Getting Started: Where to Store Your Boat
The first challenge is to figure out where to store your boat. If you do not have a large garage or warehouse that you own where you can store your boat, chances are you will be shopping around at local boat yards. The first thing you need to know is that you should never choose a boat yard based upon price. The cheapest yards will ultimately have the worst storage options and protection for your vessel. The whole goal here is to protect your investment, so choosing a cheap yard could work against you.
Choose a yard that has flat, stable ground for your boat stands and, if possible, indoor storage options if they become available. If you are storing your boat outdoors you will want to get a quality boat cover to protect your vessel or choose a yard that provides shrink-wrapping for extra protection from the elements. Ask around. Most boat owners in the area will be happy to talk with you about their boat yard experiences and might even be able to help you find top quality boat stands from Brownell in the local area. Having the right types of boat stands and boat lifting systems are crucial, but so is knowing how to use them and place them to prevent damage during storage.
Make sure to have your storage system selected through the Brownell boat stand selector and ready for use before you haul your boat out of the water. This will save you a lot of time and trouble as you start the job of preparing your boat for storage. You should also take the time to inspect your boat carefully before taking it out of the water to inspect it for damage or repairs that need to be made before it is put into storage. The idea is to get all of the work done in the off-season so you can get back on the water as soon as the weather turns again in your favor.
Prepping Your Boat: Cleaning and Protecting
The next phase is to prepare your boat for storage by giving it a thorough clean. As soon as the boat is out of the water, remove the bilge drain plug. Scrub the hull and the decks to remove any built up barnacles, slime, dirt and gunk. Make sure you give yourself time to get the cleaning done so your vessel will have time to dry before it gets into storage. While you are going through your boat and cleaning, make sure that you raise the bow to let all the water drain completely. The interior should be cleaned as well, clean out all food that has been stored, scrub the refrigerator and fishing coolers – anything that might mold, mildew or spoil while your boat is in storage.
Consider getting "mildew control" products that can be placed inside the cabin and other compartments on your boat while it is in storage. This can prevent that musty smell that these areas typically get while they are not in use due to excess moisture and bacteria that was overlooked. You can also leave interior storage areas open to allow air circulation, which can also be beneficial.
If storing for the winter, make sure to winterize your boat. Top off your gas tank, add a gas stabilizer to prevent condensation from forming, check all hoses, belts and clamps, change the oil, and replace all filters. If you have never winterized your boat before, make sure to spend some time learning what needs to be done, based upon where you live and how your boat will be stored. All of the top quality boat stands and boat lifting systems in the world can't protect your boat from simple neglect in not properly preparing the engine and other essential components for storage.
Where to Get Brownell Boat Stands
Once you find out about the different types of boat stands and use the Brownell boat stand selector to choose the best top quality boat stands based upon your unique needs, you can contact the customer service team at Brownell to find a dealer near you. Brownell Boat Stands are sold all over the world and have earned a solid reputation for providing comprehensive protection for boat storage out of the water. For over 50 years Brownell has been the name in quality boat stands. Give us a call at 508-758-3671 to learn more about our made in the USA products or to find a local dealer.