Brownell Boat Dollies: How to Dry Dock a Boat from a Trailer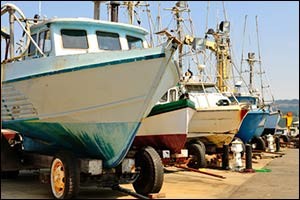 There are certain times as a boat owner when you might have to do some minor repairs or work for yourself to save money and keep your vessel in good working condition. Through the use of boat dollies, trailers and stackable boat stands, it is possible to take care of a lot of this work for yourself. Before you do any work at the boat yard or other type of storage facility, make sure it is okay to do that type of work there. While many yards allow painting and basic work, others have strict rules against using any type of cleaning fluids or oils while on-site.
Removing your boat from the trailer can be the most complicated part of doing work for yourself. Your paint job or repairs will look much better if they are on quality boat stands with a hot dip galvanized finish or painted finish. Knowing where to buy boat stands – and what brand to trust – will go a long way toward protecting your boat while it is in dry dock. The rest of this article will focus on providing you with tips on how to properly remove your boat from the trailer for boats that are 20 feet and smaller. It is important to have all of the right equipment readily available so you won't have to stop in the middle of the process to go hunt it down.
Tip #1 – Block Up Your Boat for Winter Storage
This is especially true if you use a roller trailer or boat dollies. If you don't block up your vessel, you might end up with indentations in your hull and possible stress cracks where the pressure points hit your boat. For best results, use stackable boat stands and pads from Brownell boat stands for doing repairs or storing your boat over the winter.
Tip #2 – Invest in Your Own Boat Stands
While many boat yards will provide you with boat stands that can be used while your boat is in storage, in most cases they are far inferior to the quality boat stands you can get from Brownell. If you goal is to protect your boat – and your investment – it pays to know where to buy boat stands and what brand to trust.
Tip #3 – Never Use Cinder Blocks
We know. Every time you go to the boat yard you see other vessels up on cinder blocks, but it just isn't worth the risk. Your best bet is to use pressure-treated wood blocks. Cinder blocks just can't handle the continued weight of even smaller boats and will crumble, so it's best not to even try.
How to Remove Your Boat from a Trailer
Now to get that boat off of the trailer you need a special tool from Brownell. The trailer mounted boat lift is an excellent and safe way to lift your boat from the trailer without requiring a lot of heavy lifting or expensive equipment. Your investment in this product will save you both time and money throughout the lifetime of owning it. With this boat lift, you can raise a boat weighing up to 10,000 pounds / 4,500 kilograms up to 12 inches / 30 centimeters above the bunks or rollers, by yourself. You can now easily apply bottom paint and do routine maintenance with your boat still securely attached to the trailer. It includes four trailer lifts and fits trailers with a beam height of 2-3 inches wide or 4.5-5.75 inches high.
This simple but ingenious system uses four lifts attached to your trailer and positioned under the four strongest areas of the boat: hull chines, stringers, and transom. While raising the boat, it's easy to keep the load balanced by turning the adjustable rod on each lift one half turn at a time. As your boat lifts up off of the trailer, it remains stable and secure because the lifts are attached firmly to the trailer itself. In addition to the trailer mounted boat lift, Brownell also sells a manual boat lifting system and a hydraulic boat lifting system, depending on the type of vessel that you own and your unique situation or needs.
Why Choose Brownell Boat Stands
Brownell Boat Stands makes it easy for you to choose a boat stand that will work best for your type of vessel and storage needs with our Boat Stand Selector. For the best and most accurate results, you will need to know a couple of specifications, including the length, beam, draft and weight/displacement for your motorboat or sailboat. Our stands have been independently tested and have a certified safe working load of 20,000 pounds / 9,100 kgs. Use our online Boat Stand Selector at www.boatstands.com to help you choose a boat stand or boat stand system. Give us a call Toll-Free in the United States or Canada at 1-800-533-8433, or by calling 508-758-3671.