Brownell Boat Dollies for Personal Watercraft (PWC) Storage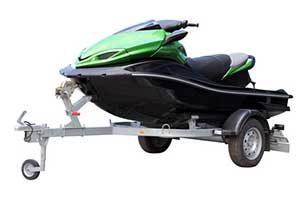 When you aren't using your personal watercraft or PWC, such as a jet ski or other small vessel, it is important to have a safe place to store it to keep it protected from sun, wind and weather damage. It likely is not appropriate to just store your vessel in the driveway or parked in the back of your property, so you need to find a good place to keep it. Indoors is ideal, such as a garage, shed or even a self-storage facility, as long as it is within the rules to store such items there freely. You will need to winterize your PWC, just as you would any other type of boat, to prevent freezing damage and other issues that can occur over the winter months.
Using a personal watercraft dolly or Brownell boat stands will depend upon the type of vessel that you own. A steel pontoon boat dolly can be extremely helpful for larger pontoon style vessels, but as long as you are using top quality boat stands and have the right size, type and amount for your watercraft, then you should be in business.
In addition to keeping your PWC up on stands and preparing it for freezing temperatures, you should also consider using a tarp or other type of cover. UV protection is not always guaranteed indoors, especially if there are windows that might allow sunlight inside. Besides, a tarp will prevent dust, dirt and other debris from settling on your vessel while it is in storage. Just make sure that you have permission to store your vessel wherever you decide to store it so you can avoid having to move it in a couple of feet of snow or risk getting ticketed and fined in your neighborhood or homeowner's community.
Trailers and Boat Stands
Once you work out where you will store your personal watercraft, it's time to decide how you will store it. Some boat owners store their vessels on top of dollies, such as a steel pontoon dolly or personal watercraft dolly, so they are easy to move around in a garage or storage as needed while in storage. Others choose to use top quality boat stands, such as Brownell boat stands, to keep the vessel up, supported and protected while it is being stored. Check the manufacturer's suggestions on how to properly store your small boat, pontoon or other personal watercraft. Improper storage could void your warranty, cause damage to the hull or lead to other issues.
Indoor storage protects your PWC from sun, weather and even animal droppings, but you need to do everything you can to ensure that your vessel is protected while it is in storage. Dry stack storage is a great idea if you have multiple personal watercraft. You can purchase multi-vessel storage from places like Brownell boat stands and other reputable manufacturers and dealers. Top quality boat stands are essential to any boat owner who takes protecting their vessel seriously. You don't want to place your PWC in storage in the fall only to find that your stands and pads failed somewhere during the winter, causing damage to the hull.
Proper Preparation is a Must
The first thing you need to do before you put your PWC into storage is to make sure that it is cleaned and dried. Placing your vessel onto a personal watercraft dolly can make it easier to move it around while cleaning and maintaining it for the winter season. You want it to be completely dry so it won't grow mold or mildew while in storage. Make sure all of your storage hatches are open and even lift up the seat so air can get inside. This will prevent smells and mildew from accumulating inside.
You'll want to store your vessel properly, either on PWC specific top quality boat stands or on the trailer. If you store your PWC on the trailer that you use to haul it, make sure that you have adjustable boat pads to protect your vessel during transport and storage. The same goes for your personal watercraft dolly, steel pontoon boat dolly and any other Brownell boat stands that you use. You should always use the proper pads designed to go with each piece of equipment to further protect your vessel from any potential damage.
Trust Brownell Boat Stands
It is important that you only trust your investment to a reputable manufacturer of top quality boat stands and pads for storage, transportation and maintenance equipment, such as Brownell boat stands. Whether you need a heavy duty steel boat dolly, steel pontoon boat dolly or other type of personal watercraft dolly, Brownell can help you to protect and care for your vessel. To find a dealer near you, call 508-758-3671 or use our online boat stand selector to find the best equipment for your needs.