Boating Safety Tips: Sailboat Jack Stands, Keel Support & More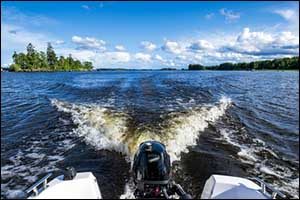 Whether you are a new boat owner or just haven't been boating in many years, it is highly recommended that you take some time to learn about boating safety. Depending on where you live or the places that you visit with your vessel, a boating safety certificate might be required. Some states require them, while others do not. However, it's a good idea to learn the "rules of the road" when it comes to safe boating.
Taking care of your boat requires a basic education as well. Learning where to buy boat stands and all of the gear, tools, and products you need to keep your boat safe both on and out of the water. Sailboat jack stands and keel support are used to properly balance and support your vessel while you are performing maintenance or during off-season storage. Galvanized boat stands or traditional blue painted stands from Brownell are used by boat owners and professionals around the world due to their strength, durability, and dependability.
Seasonal Storage on Dry Land
In some parts of the country, storing a boat on the water is common. It can help boat owners to get back out onto the water faster than having to bring a boat out of dry dock storage. However, if it is possible to store a boat on land during the winter months, it is always the safest option. There's no fear of the boat sinking during bad weather and less concern about damage to the hull. Storing your boat ashore is also frequently less expensive over the lifetime of the boat, as it protects your vessel from developing blisters when the water soaks into the boat's laminate below the waterline.
If you do decide to store your boat on dry land, make sure to winterize your boat if your area experiences freezing weather. When a boat is surrounded by air during storage, it is more vulnerable to a sudden freeze. This is why you should winterize your engine and freshwater system. This is true even in areas where a deep freeze does not occur. However, if you do live in an area where the winter is especially long and hard, it is essential to winterize your boat much earlier than other parts of the country. When winterizing is neglected in areas where snow and ice occur, boats that are not winterized can be severely damaged.
Proper Support is Essential
The only way that a boat stored on dry land will be protected is if it has proper support. When most people think about sailboat jack stands and other types of galvanized boat stands, they assume that the stands support the weight. However, jack stands are used to balance the vessel while the weight is supported on keel stands. The number and type of stands required for each vessel can vary, so it is important to consult your owner's manual or get information from authorized Brownell dealers when you learn where to buy boat stands. Boating safety is essential both on and off the water. If you do not have the proper number of stands to support your sailboat or motorboat, it could become damaged.
Studies show that more boat hulls are damaged onshore due to improper support and handling. Brownell's TLC boat pads help to protect the hull from distortion when the correct number and type of stands and support are used. Proper winterization and use of sailboat jack stands and keel stands are paramount to the successful storage of your boat. Incorrect use of stands and storage can cause damage to bulkheads, the alignment of the engine, and more. The most reliable support includes professional quality galvanized boat stands, such as the ones manufactured by Brownell. Homemade solutions are less effective and will most often cause severe damage after a single season. The Brownell Boat Stand System is designed to protect vessels of all makes, models, sizes, and types, according to their specific needs.
Manufacturer Recommendations
Many boat owners find the best success with contacting the boat manufacturer for blocking plans, which are used to indicate where sailboat jack stands and keel support should be placed. If you cannot obtain such plans from your manufacturer, you can use the Boat Stand Selector tool on the Brownell website. It provides detailed information on the type and number of motorboat or sailboat jack stands, as well as keel support, that should be used to protect your boat when it is on dry land. Make sure to create a custom your plan and save it so it can be used to properly store or maintain your boat in the future.
Visit www.boatstands.com to see the full line of products available from Brownell. You can also contact our office in Mattapoisett, Massachusetts to learn where to buy boat stands and keel support at an authorized dealer near you. You can call 508-758-3671 to speak with one of our representatives.