Boating Safety Tips: Out on the Water With Man's Best Friend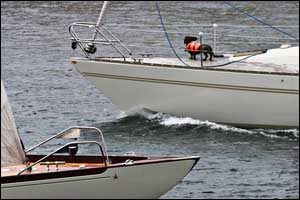 On these pages, we talk a lot about what to do with your boat when it is out of the water. What types of boat stands should you use? How should you use them? What about sailboat stands and other top quality boat stands designed for specific types of vessels? At Brownell Boat Stands, we take the guesswork out of choosing boat stands. You can use our online Boat Stand Selector to determine the type and amount of stands required for your specific type of vessel. We know that when your boat is out of the water, you aren't out on the water. So we make reliable and durable boat stands for our customers so they can do the work they need to do and get back out to enjoy the good weather while it lasts.
Boating With Pets
You will also see a lot of tips online about boating with kids or tips for first-time boaters. However, there are a lot of boat owners who have four-legged friends that would like to read some safety tips for taking Fido out with them on the water. While some pets absolutely love boating, there are others who will not be so pleased to be off dry land. It is best to take it slowly and play it by ear. If your four-legged friend does not want to be on the boat, don't make him go. Instead, make doggie daycare arrangements for you near the marina or leave him safely at home.
If you do bring your dog out on the water with you, here are some tips you can try:
create a shaded area for your dog to go to get out of the sun
provide foot protection, such as dog booties, as boat surfaces will get hot
let your pet get used to the boat off the water or while it is docked
always take your dog for a walk prior to boarding so he can "go" before leaving
start with a short trip first to get him used to the boat
Things to bring with you and your dog out on the water include:
fresh water and a water bowl
fresh food and a food dish
a collar and a leash, just because you are on the water doesn't mean you might not need to restrain your pet for his own protection at some point
a life jacket
Life Jackets for Dogs
Just as there are specific types of boat stands for different types of boats, such as sailboat stands for sailboats and other top quality boat stands for other types of vessels, there are also special life jackets made for dogs. Contact a local company that carries life vests to find out if they have specialized life jackets for dogs. You may need to order something like this online if they don't have anything local. It is important to note that some dogs can't swim. Even if they can swim, certain storms and weather conditions might make it difficult for a dog to stay afloat if they end up out in the water.
There are no laws regarding life jackets for dogs, so getting one for your pet is entirely up to you. However, it pays to keep your pet as safe as possible, whether you are on the boat or simply on the dock near the water. Accidents can happen in an instant, so it is better to be prepared for safety than to wish you had gotten him a life jacket after a tragedy. Make sure the jacket fits properly, as you would check the fit for human passengers. Get a jacket that has lifting handles for easier retrieval, should your dog end up in the water.
Contact Brownell for Top Quality Boat Stands
If you are in the market for sailboat stands or other types of top quality boat stands, look no further than the Brownell Boat Stand System. We have a wide range of options for sailboats, motor boats, personal watercraft, and other types of vessels. You can use our Boat Stand Selector online via our website or give us a call at 508-758-3671 to find an authorized dealer near you.