Boating Safety for New Boat Owners: Both On & Off the Water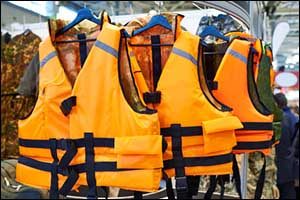 Congratulations on the purchase of your brand new boat! Whether you chose to get a sailboat or a motorboat, most of the rules for boating safety apply equally. Each year, hundreds of lives are lost due to preventable recreational boating accidents in the United States alone. As a boat operator, you can make a big difference in the safety of your boat and your passengers.
The more you can learn about safety both on and off the water; the safer everyone will be. From choosing adjustable trailer pads for transportation, stackable boat stands for storage, and proper safety gear to implementing best practices according to manufacturer's recommendations, safety is important. Knowing what you need, what equipment you should buy, and what you need to do on the water is key.
Boating Safety Courses
All types of recreational boaters of all ages should take a boating safety course. If you will be boating with your family, it's a good idea to look into boating safety for everyone who will be going out on the water. Certain organizations, such as the U.S. Coast Guard Auxiliary, U.S. Power Squadron, and local groups, sponsor boating safety courses. Some of these courses and certification programs can be transferred between states, which can be helpful for boating trips outside your home area.
You will learn a lot about many different aspects of boating safety, including safe speeds on different bodies of water, flotation device requirements, and other safety gear. You can get a FREE Vessel Safety Check or VSC of your boat by either the U.S. Coast Guard Auxiliary or the U.S. Power Squadron. They have certified vessel examiners that will do this for you at no charge at your convenience. If you don't pass the safety check, there aren't any consequences. They will simply go over steps you can take to make your boating experience safer.
Storing & Maintaining Your Boat
When your boat is out of the water, it is at it's most vulnerable. When transporting your boat to and from the water or to and from storage, make sure to use the right size and type of trailer and always include adjustable trailer pads. Brownell's high quality TLC trailer pads can help to protect your boat whether you are transporting it or storing it on stackable boat stands. Use the Boat Stand Selector on the Brownell website to view our full list of independently certified boat stands. There are different types, including motorboat stands, sailboat stands, foldable sailboat stands, keel stands, and stands with an adjustable backbone for boat stand safety.
The more you can learn about proper winterizing and storage for your new boat, the more protected it will be. This is true whether you are storing your boat in the off-season for winter or if you are simply storing it while not in-use. Some boat owners keep their boats ready for use all season long, while others may have to keep their boat in a storage facility due to limited space at home. Figure out the best storage and transportation options for your vessel based on the recommendations of the boat dealer and the manufacturer's owner's manual.
Flotation Devices & Life Jackets
It is important to invest in quality life jackets for every passenger on your boat. Studies released by the U.S. Coast Guard revealed that over 80 percent of boating fatality victims could have been saved if they would have only had a proper life jacket. Accidents do happen, regardless of how safe and controlled, you are in operation of your vessel. There are other boaters out there and situations that are beyond your control.
It is essential that you and your passengers are prepared and that you are wearing your life jackets whenever you are out on the water. Accidents and situations occur quickly, usually before anyone can reach jackets or devices that are stowed somewhere on the boat. The U.S. Coast Guard has rules about the use of life jackets, especially for minors. Make sure to take the time to familiarize yourself with the rules and regulations, as well as the statistics for boating safety. The more proactive that you can be about protecting your passengers, your vessel, and others out on the water, the safer everyone will be.
Trust Brownell for Boat Safety
Whether you are searching for stackable boat stands or need to know which adjustable trailer pads are designed for your vessel, you can trust Brownell for boat safety. As the originator of the boat stand as we know it today, Brownell has a wide selection of independently certified boat stands available to protect your boat during maintenance or storage. Give us a call at 1-508-758-3671 to learn more about our products or to find an authorized dealer near you.