Boating Safety and Prevention Tips From Brownell Boat Stands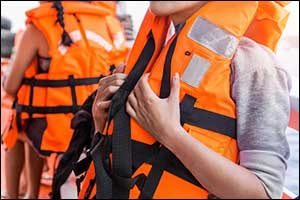 Spring is finally here – it's time to prepare your boat for fun-filled days out on the water. If you haven't done so already, take a moment to go through your safety gear and make sure that everything is in order. We have prepared a check-list that you can use in addition to your own to make sure you have everything you need out on the water. Brownell Boat Stands are a great way to keep your boat supported and stable while out of the water, helping you to get your pre-season maintenance and repairs completed to reduce downtime. Sailboat stands, motorboat stands, keel stands and benches, along with a wide range of accessories, pads, and specialty products are all available on our website or at an authorized dealer near you.
Safety Gear Check-Up
Every boat should have a first aid kit that is properly equipped and updated regularly to provide the means necessary to help passengers in the case of an accident or medical emergency. Other items are also helpful in an urgent situation, including a flashlight and extra batteries, a bucket and some duct tape, a whistle, ropes, a mirror, and trash bags. Drinking water for you and everyone on your boat, as well as energy bars and other snacks, can also be helpful while out on the water, but especially if you become stuck or stranded for any period of time. A fire extinguisher and life jackets for each person on board are must-have items for any type of vessel.
US Coast Guard Approved Life Jackets
Speaking of life jackets, while that cute orange vest from the 1970s might remind you of the first time you operated your dad's boat, it won't cut it by today's safety standards. Life jackets should be fitted for each person on board to make sure that they fit snugly. Choose life jackets that are approved by the US Coast Guard and that are appropriate for the age and size of the wearer. There are also specialized jackets for certain types of activities, including recreational water sports and fishing.
Common Sense is Required
While not available for sale at your local marine store, common sense is something that no boat operator should be without it. Choosing boat equipment, such as sailboat stands, motorboat stands, keel stands and benches that are designed for use with your vessel is essential to protect your boat when it is out of the water. Brownell Boat Stands sell a wide range of equipment and accessories all designed to make boat handling as efficient as possible.
Other common sense things include not overloading your boat with too many people or too much stuff, learning to check the weather before your trip and continue monitoring it if a sudden wind or dark clouds begin to creep up in the area. Stay alert while operating your boat, stay at a safe speed, and ensure that your passengers stay within the railings to prevent anyone from falling overboard. Learn the basic safety rules of boating and refresh your knowledge frequently to make sure you don't forget anything important.
Take a Professional Safety Course
One way to ensure that you know all of the proper rules for boating and safety procedures is to take a US Coast Guard boating safety course. Studies show that as much as 70 percent of all boating accidents each year are caused by operator error. Before you ever leave the dock to go out on the water, make sure you know your responsibilities and the rules of boating. You can take free courses online, but the course offered by the US Coast Guard features hands-on courses to increase your knowledge of boating safety.
Schedule a Vessel Check
Whether you are a new boat owner or if you are just taking your boat out of storage after the winter season, it's a good idea to get a vessel check performed by the US Coast Guard Auxiliary or the United States Power Squadrons. They offer FREE vessel checks and, even if your boat does not pass, there are no consequences. This is a very informative option for boat owners to make sure that your boat is safe, functioning properly, and ready to get out on the water.
Trust Brownell Boat Stands
Whenever your boat is out of the water, make sure you trust it to quality boat stands, keel stands and benches from the Brownell Boat Stand System. We design and manufacture the industry's best sailboat stands, motorboat stands, boat pads, and other essential accessories at our Southeastern Massachusetts facility. Give us a call at 508-758-3671 to find an authorized dealer near you or to learn more about the professional quality products that we sell.