Boat Trailers and Trailer Components: Brownell Boat Stands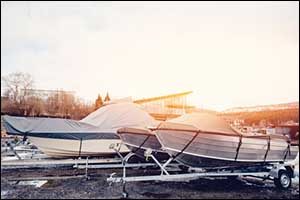 Just like the options available at Brownell boat stands for sailboat and motorboat stands, keel support, and boat racks, boat trailers come in many different shapes, sizes, and types. There is no such thing as a one-size-fits-all solution. While you can't purchase a boat trailer from Brownell, you can get just about everything else you need to get your boat out of the water and transport it safely from point A to point B, including a boat lifting system and trailer components, such as trailer wedge stands and pads. When looking for a boat trailer, it pays to have all the details about your vessel ready and available, including the make, model, year and any measurements that might be helpful.
Different Types of Trailers
Shopping for a brand new boat trailer can be tricky. It is important to know what your budget is before you even start looking, so you won't be overwhelmed by the options or lack thereof within your price point. Once you purchase the trailer, you can then shop for protective items, such as the trailer wedge stands and pads available from Brownell boat stands. However, before you get to the point of shopping for trailer components, you need to figure out what type of trailer will suit your needs best.
LOW-COST: By far the most affordable option is the painted steel trailer. Great for boats that will be used in freshwater, these trailers are not recommended for use with salt water or brackish water. Custom paint colors can be chosen to match or compliment the boat. While steel itself is very strong and able to stand up to a lot of abuse, you should take a look at some of the other options before you make a decision.
MID-COST: After the painted steel trailer comes the galvanized steel trailer. A zinc coating is applied over the steel to increase protection from corrosion instead of the painted coating used for the low-cost painted steel trailer. The zinc coating is a great sacrificial barrier; however, it will wear out over time, making the metal easy to scratch and become prey to corrosion.
HIGHER-COST: The most expensive type of trailer would be the aluminum trailer, as it is the best at resisting corrosion and works very well in a marine environment. Corrosion does happen, however, the natural oxidation of the aluminum prevents it much better than other materials. Much lighter than steel, yet with similar strength and capacities, aluminum trailers are also great for lowering fuel consumption and assisting in boosting tow capacity.
Maintenance Requirements for Trailers
Once you choose the type of trailer and trailer components that you want for hauling your boat to the water and back, make sure to take the time to learn how to maintain your new equipment properly. You can purchase a quality boat lifting system, as well as trailer wedge stands and pads, from Brownell boat stands to increase the protection for your boat. However, the best thing you can do is to stay on top of regular maintenance each time you take your boat out on the water.
After every single use – rinse the trailer with fresh water
Weekly or monthly, depending on use – wash the trailer with soap and water
Purchase galvanizing spray to keep on hand to cover chips, scratches, and spots
Protect tires from sunlight exposure with covers
Use dielectric grease on the sockets of light fixtures to prevent corrosion
Apply grease to the shafts and roller assemblies at the beginning of the season
Where to Purchase Brownell Boat Stands
If you are interested in learning more about the full line of trailer components, trailer wedge stands, and pads, or if you are interested in our boat lifting system, contact Brownell boat stands by calling 508-758-3671. You can also visit our website at www.boatstands.com and browse our product line online for specifications and additional information. To take a look at all of the fine products available from Brownell or to purchase something locally, just give us a call today to find an authorized dealer near you!