Boat Stands & More: Prepping and Storing Your Boat for Winter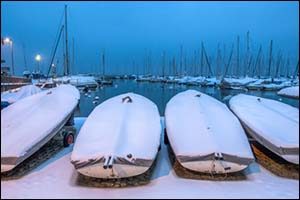 The moment you smell that cool, crisp breeze in the air, you know that winter is just a few months away. It's time to start thinking about preparing your sailboat for storage and taking care of seasonal maintenance. Depending on where you live or keep your vessel, you may have other winterizing tasks that need to be completed as well. It is important to take the time to learn all you can about off-season care for your boat. From choosing the best yacht stands or sailboat jack stands from the Brownell boat stand selector, or how to properly use foldable sailboat stands to protect your investment, knowledge really can be a powerful thing.
Why Winterize Your Boat?
Even if you don't live where extreme winters are normal, such as New England where Brownell Boat Stands are made, it is still important to winterize your boat properly to keep it safe throughout the season and be prepared to get your boat out on the water right away when the conditions improve. Boat owners with short winter seasons will also often take their sailboats out of the water and use this time to put the vessel up on sailboat jack stands and take care of important maintenance work. This helps to maximize the opportunity to be out on the water during fair weather without having to take time off for repairs.
Winterization helps to protect your vessel in many ways, including:
shielding gear and electronics from freeze damage
protecting batteries, engines and systems that can be damaged when not in-use
temperature and weather damage to the exterior and interior of the boat
While it doesn't take much time to pull your boat out of the water, get it to your storage facility and get it up properly on yacht stands, keel supports and other sailboat jack stands for servicing and storage, you do need to commit to doing it before the freezing temperatures hit the local region. Check with your local marina and other facilities for tips on the best time to pull your boat from the water and get it into storage. Use the Brownell boat stand selector online or work with a local authorized dealer, to determine which boat stands will work best to protect your vessel when it is out of the water.
Covering Your Boat in Storage
So you have your boat out of the water and safely up on foldable sailboat stands or sailboat jack stands for safe-keeping during the winter months. Now it's time to think about covering your boat for extra protection. Even if you are storing your boat up on yacht stands at an indoor facility, it is in your best interest to cover it. Outdoor storage requires the use of a cover for protection from ice, snow and UV rays from the sun. Indoor storage requires less protection, but a cover is still important. Choose your cover carefully, just as you would use the boat stand selector for your sailboat jack stands and keel support.
The three primary options for covers on sailboats include:
Canvas Covers – One of the best materials you can use to protect your vessel is canvas. It is heavy and thick, meaning it provides lots of great protection, and can last you for a few seasons without tearing or having any issues. Excellent for both outdoor and indoor storage when your boat is up on yacht stands, you may need to use a solid frame to support the weight of the canvas to protect your boat. The heavier material will move around and flap around less in wind, but it still needs to be secured properly for best results.
Plastic Tarps – Cheap solution, but it can be effective when used properly. Be prepared that a plastic tarp is much lighter in weight than canvas covers, so they will only last one to two seasons and will flap a lot in the wind. Because they are not created specifically for marine use, it will be difficult to find a plastic tarp that will fit your vessel properly. You will need to do some manipulation to get it to fully cover everything that you want to protect.
Fitted Covers – The ideal solution to protect your vessel when it is indoors or outdoors on foldable sailboat stands and sailboat jack stands. Like the boat stand selector, you can choose your fitted cover based upon the model of your vessel. There are also pre-fitted covers that are designed for general boat sizes and styles. Much more costly than either canvas or plastic cover solutions, you will get the best fit from fitted covers, which means they will also last for more seasons than other options.
Shrink-Wrap – You need to hire a professional to do the shrink-wrap on your vessel for best results. Shrink wrap is made with UV inhibitors and is designed to shrink when it is heated. This creates a much tighter and form-fitting seal than any canvas, fitted or plastic cover solution could ever hope to achieve. If you can get shrink-wrap for your sailboat in the off-season in your local area, whether you are storing it indoors or outdoors, you should definitely contract someone to take care of it for you.
Trust Brownell Boat Stands
Whenever you need to pull your vessel out of the water, either for seasonal storage, maintenance or repair, you can trust the Brownell Boat Stand System to protect your investment. Choose from foldable sailboat stands, yacht stands, keel support, sailboat jack stands, top quality TLC pads and much more. Use our online boat stand selector or call us at 508-758-3671 to find an authorized dealer near you.