Boat Stands: Looking to Buy a Sailboat? You're Not Alone!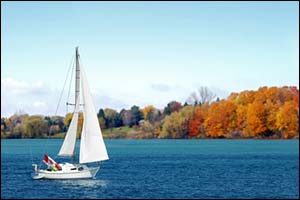 While you might think that you have to be rich or at least have a lot of disposable income to own a boat, the truth is that studies have revealed that over 70 percent of boat owners in America have a household income of less than $100,000. That being said, there are a lot of boats available in a variety of sizes and price points to help you get started on the road to boat ownership. However, before you just dive in and purchase that sailboat of your dreams, it is important to take some time to learn all you can about what is required to properly maintain and store your vessel when it is not in the water.
Boating in America
According to a study that was conducted in 2013, Americans spend nearly $37 billion dollars each year on recreational boating. This doesn't just include the cost for purchasing the boat, but all of the accessories required, such as yacht stands, keel stands, foldable sailboat stands or basic boat stands, as well as the accessories and services, fuel and repairs, storage and insurance, taxes and engines, trailers and storage. Sales of boats have increased by around five percent each year since 2010 and there is no sign that it will be slowing anywhere near the future.
There are currently over 12 million boats registered in the United States. This includes sailboats, motor boats, fishing boats, pontoon boats, ski and wake-board boats, as well as other types of personal watercraft. Larger cruising boats, which cost more and require even more care, are also in demand, but it is important to choose the best boat for your needs, lifestyle, and budget. You should also take into consideration the number of passengers that can be on the vessel, the type of propulsion, the ease of transporting your boat, and the cost for insurance.
How to Choose the Best Boat
Now you might think that selecting the best boat would be based purely on the type of boat that you like, but there are other things to consider, as we mentioned above. The first thing that you should ask yourself is what will you be using the boat for when you get it. Do you want to go sailing around the shoreline or out in the bay? Do you want to go out on a lake to go fishing? Do you want to take the family on an adventure? Or do you want to get involved in some type of water recreation sport, such as water skiing, tubing or racing?
The next thing you need to think about is how much time you will have to actually get your boat out on the water. Do you only get a week's vacation once each year? Do you live near the body of water that you want to explore or do you need to travel to get there? You don't want to invest in a boat just to have it up on yacht stands and keel stands for 90 percent of the year, so it pays to choose a boat that you will be able to use often. If you live in an area where half the year is not conducive to boating or if you live near a lake, but long to go out on the ocean, you will need to figure out transportation and storage on boat stands or foldable sailboat stands in your off time.
One study revealed that the average use of American boat owners is 26 days out of the year. If you think about it, that sounds about right. A week or two of vacation, plus the occasional holiday or three to four-day weekend would total up to around 26 to 30 days per year, depending on where you live.
How Big Should the Boat Be?
Approximately 95 percent of the boats owned currently in the United States are less than 26 feet. You won't need a huge boat unless you plan on hosting parties. You won't really even need a kitchen or sleeping quarters unless you plan on living on your boat at some point. The larger the boat, the more it costs to buy, operate and store. Make sure that when you do choose a boat, that you find out all that you can about the number and type of boat stands that you will need for proper storage and maintenance. Choose from foldable sailboat stands, yacht stands and keel stands, as well as a range of pads and trailer pads for proper movement and storage.
If you are interested in learning more about boat stands, contact Brownell Boat Stands, the number one manufacturer of foldable sailboat stands and motor boat stands in the world. Our orange and blue yacht stands and keel stands are iconic and have a solid reputation among boat owners and boat yards alike. Give us a call at 508-758-3671 to find a dealer near you or to ask questions about any of our fine American-made products.