Boat Stands, Keel Support, and Boat Racks for Proper Storage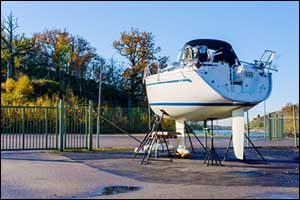 When it comes to finding the right equipment to store your boat safely, you can trust the products from Brownell. With a solid reputation in the marine industry, Brownell actually invented the modern boat stand. All of the products that we design and manufacture are created with the goal of making boat handling more efficient. From our signature boat stands and keel support to boat racks, lifting systems, and dollies, you can get everything you need to maintain and protect your vessel at Brownell.
The Brownell Boat Stand System
Known throughout the industry by commercial and recreational boat owners alike, the Brownell Boat Stand System is used by professionals all around the world. Our products have a solid reputation for being the best quality ever made. You could visit boatyards and other marine facilities anywhere on the planet and see Brownell boat stands and keel support equipment in-use. Our system is designed in a wide variety of sizes to fit virtually any boat. You can use our online Boat Stand Selector to find out what sizes and numbers of stands and keel support you would need to protect your boat properly.
All of our products come with a lifetime warranty and are made from solid American steel and use ACME threaded adjustable rods. Superior welded construction that features stacking and nesting design for smart storage, our products are designed to allow for storage of more boats in the yard than any other boat stand system. Choose from two varieties: hot dip galvanized or dipped in our signature blue paint for extra protection from the elements. All of our products are independently tested and have a certified safe working load of 20,000 pounds or 9,100 kilograms.
Keel Support
Many people don't realize that it is the keel stands that provide the most support for a boat when it is out of the water – not the boat stands. The boat stands serve as stability and balance, but the keel support is what takes the full weight of the vessel. Brownell keel stands are designed to help save time and labor when used in place of conventional wood blocks. They feature our easy-to-adjust ACME solid steel threaded tops and can be easily nested and stacked for more compact storage options.
We recommend that you use one keel stand for every 20,000 pounds or 9,100 kilograms of vessel weight. Keel stands should be used two at a time in pairs and spaced evenly along the keel for best results. Used in conjunction with Brownell boat stands, the keel support is an important part of the overall Brownell Boat Stand System. Just like our boat stands and other products, our keel support equipment is top of the line, manufactured right here in the USA and designed to protect and support your boat effectively during maintenance or storage on land.
Boat Racks
There are lots of ways to protect your boat when it is out of the water. Another component in the Brownell Boat Stand System includes our boat racks. Designed for use with hydraulic trailers and fork lifts, this equipment is perfect for servicing or wash downs at dry stack facilities. Used by professionals for fast and efficient set-up, these boat racks can also be nested and stacked together for better storage when not in use.
Our boat racks can handle vessels up to 20,000 pounds or 9,100 kilograms each. Choose from a variety of sizes ranging from 28-inches to 54-inches in height. Again, you can also select either our hot dip galvanized series or our signature marine blue paint coating for extra protection from the elements. The Brownell Boat Display Rack is perfect for displaying boats on a showroom floor or when you want to maximize floor space for storage. It features our no-scratch, no-slip TLC pads for added protection and can handle boats up to 45-feet in length and up to 35,000 pounds or 15,875 kilograms.
The Brownell Boat Stand System
To learn more about our wide range of products, including fold-able sailboat stands, motorboat stands, keel stands, boat dollies, boat lifting systems, trailer components, adjustable trailer pads, trailer wedge stands and pads, engine racks for marine engines and, of course, our well-known Brownell Boat Stands, contact us by calling 508-758-3671. We can even help you find an authorized dealer near you!