Boat Stands for Sailboats: Protect Your Boat in the Off-Season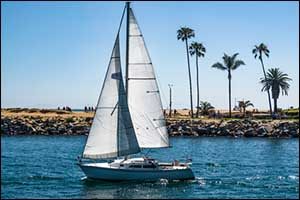 Once you make the decision to pull your boat out of the water for the off-season, you need to perform the tasks required to protect it immediately. The Brownell Boat Stand System can be extremely helpful to both new and experienced boat owners, providing all of the yacht stands, sailboat stands, keel support, and other equipment necessary to protect your boat when out of the water. Boat stands for sailboats are quite different than the sizes and types of stands required for other boats, so it pays to take some time to determine what it is that you need to protect your exact make and model before you haul it out of the water.
Where you store your sailboat during the off-season will make a difference in how you need to protect it. Indoor storage is ideal but is in short supply in many areas. If you are fortunate enough to have a large garage or storage area of your own to keep it in on-site at your home, then you can get whatever you want to protect your boat. However, if you house your boat indoors or outdoors at a boatyard or other storage site, you will need to be aware of any rules regarding boat stands, storage, covering, and maintenance that can be used of performed on-site. Some yards will offer shrink wrap and other covering services, but for the most part, you will need to do this safely and quickly on your own.
Why Cover a Boat?
Even if you live in an area where the temperatures don't get down to freezing, and there isn't a lot of seasonal precipitation, it is still a good idea to cover your boat. Winter covers are designed to keep things like snow, ice, and water out of the boat, reducing condensation and preventing things like mold and mildew from taking hold. A winter cover needs to be strong and durable enough to last out the season, prevailing through constant UV exposure and the weight of seasonal elements to keep your boat safe and secure. Ideally, the cover you choose should be designed for your particular make and model of vessel, just as the yacht stands or sailboat stands that you choose to support your sailboat while out of the water.
Dry rot, mildew, mold, and damage caused by wind, sun, and air, can all result in serious damage to your vessel if it is not properly winterized, covered, and protected. Boat stands for sailboats should be used to provide effective keel support and prevent the boat from tipping during storage. In spite of the fact that most fiberglass resins are fully impervious to water, which includes ice and snow, it is still highly recommended that you cover your fiberglass boat during the winter months. Extensive exposure to UV light can damage the gel coating, changing the color of the vessel and making it appear chalky. While this is obviously an issue in the summer months, which is why summer covers are used extensively by boat owners or all types, it is also a problem in the winter.
Selecting the Best Boat Stands for Sailboats
When it comes to picking the best options in the Brownell Boat Stand System for your sailboat, it is important to know the make, model, and year of your vessel. This will help you in the use of our online Boat Stand Selector tool. If you are still unsure of what yacht stands or sailboat stands are best for your particular sailboat, you can also contact an authorized dealer near you. They can also assist in finding the best winter boat covers, summer boat covers, and other protective gear for your sailboat. You need to know that the tools you are using to protect your boat are specifically designed for use with your exact type of sailboat. You don't want to spend all that time and money putting everything in place just to find out next spring that your efforts were all for nothing.
Use our online Boat Stand Selector at www.boatstands.com/boat-stand-selector/ or give us a call at 508-758-3671. Our team can help you to find an authorized dealer of components for the Brownell Boat Stand System, including TLC boat pads, keel support, boat dollies, boat racks, staging ladders, boat lifting systems, shrink wrap accessories, and much more. Call today and learn for yourself why so many sailboat owners trust Brownell products to help protect and maintain their boats year-round.