Boat Stands for Sailboats: Freshwater and Saltwater Solutions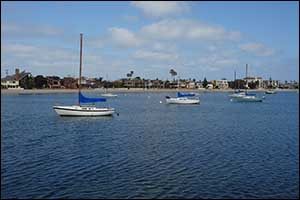 Purchasing a brand new or used vessel means making plans for the immediate future. If you aren't using your new boat during the winter months, you need to figure out how you will store it. Storage is an important part of boat ownership. Protecting your vessel from damage during the off-season should be a top priority. Boat stands for sailboats, such as the foldable sailboat stands, keel support, and yacht stand options available through Brownell Boat Stands are an excellent method to keep your boat up off the ground for both indoor and outdoor storage options. Make sure to use a custom boat cover designed for your sailboat or consider shrink wrap options that may be available at your local boatyard.
Storing a Boat on the Water
Depending on where you live, this may or may not be an option. You will talk to many boat owners who swear by water storage and a bunch who will tell you to beware. When your boat is not in use, you should keep it out of the water, covered, and protected at some sort of professional storage facility. This approach will help to maximize the lifespan of your vessel and help you to get the best return on your investment. It can take a lot of time and money to ensure that your boat is properly winterized and prepared for storage, but it is well worth the effort.
Most people will store their boat during the winter months or during long stretches where they are unable to actively care for and use their boat out on the water. Then they can store the boat on the water at a local marina, so it is ready for use during the rest of the year. However, it is vital to consider the potential damage that both freshwater and saltwater can do to your boat. Some vessels should be pulled out of the water, cleaned, and stored between uses to protect them from damage, while others can be maintained with preventive measures to reduce the impact of water storage.
Which is Worse: Freshwater or Saltwater?
Saltwater is known to cause damage to a boat more quickly than saltwater. The corrosive nature of the salt and other minerals found in saltwater are responsible for a lot of damage. In addition to the saltwater itself, ocean and sea storage can be more damaging than most freshwater locations, simply because of the rough condition and obstacles, such as rocks and reefs. Studies have revealed that a boat's manifold can last upwards of ten years or more when stored in freshwater, yet only three to four years in saltwater. What do you think saltwater is doing to the rest of your vessel when you keep it at the ocean marina year-round?
If you are purchasing a used boat, make sure to find out where and how it has been stored. You should also check to see if the boat is rated for freshwater, saltwater, or both types of water use. Even freshwater boats can be prepared for use in saltwater now and then, but they won't be suitable for saltwater storage or long-term use in saltwater conditions. When it comes right down to it, if you want to store your boat on the water for any length of time regardless of the season or regular use, freshwater is the best choice. Freshwater is cleaner and does not impact your vessel like saltwater, but where, how, and when you store your boat on a lake or other freshwater body of water matters as well.
Things to Consider
Just because freshwater is better than saltwater does not mean that it is the best solution for your vessel or situation. The average temperature of the area where your boat is located matters as well, which is why winterizing is required whether you store your boat on the water or in a storage facility. Take care to protect your engine and other essential equipment from freezing during the winter months. Temperature and conditions need to be considered to determine the type of storage that is best for your vessel. Drydocking your boat using boat stands for sailboats, foldable sailboat stands, or custom yacht stand and keel support systems from Brownell Boat Stands can help.
Freshwater storage can also lead to blistering, which needs to be taken care of right away to prevent further damage. Barnacles are also a consideration for saltwater storage, which is why preventive measures are so necessary. Create a strategy for storage, whether you choose freshwater, saltwater, or drydock solutions. Take care of your boat according to the manufacturer's recommendations and consider consulting with a professional to determine your best course of action if you are new to boat ownership. Even if you do decide to keep your boat on the water throughout the year, you will need to pull it out of the water occasionally to provide maintenance and inspect the hull. Consider Brownell Boat Stands and marine equipment for this purpose.
Contact Brownell Boat Stands at 508-758-4671 to speak with a representative about your questions regarding our foldable sailboat stands, yacht stand, keel support, and other boat stands for sailboats and motorboats. We can also help you to find an authorized dealer near you or assist you in finding the best boat stands and configurations for your vessel.