Boat Stands for Christmas: Holiday Gift Ideas for Boat Owners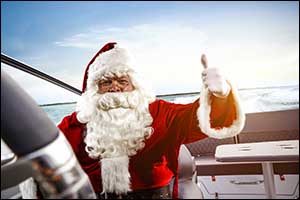 Looking for gift ideas for that special someone? Whether as a gift for the holidays, a birthday, anniversary or to celebrate a brand new boat, the more thought you put into the gift, the more appreciated it will be. The Brownell Boat Stand System is an excellent gift for boat owners. Family, friends and loved ones can use our boat stand selector online to choose a boat stand, keel support, and other essential tools to purchase for gift-giving. You can count on the quality and durability of our independently certified boat stands, which are sure to impress the recipient and everyone else in the room.
Why Choose Brownell?
For over 50 years, boat owners have trusted the Brownell name for delivering top quality, dependable marine products. Brownell revolutionized the way that boats were stored with his invention of the Brownell boat stand. It has proven to be the fastest, safest, and most reliable way to store boats out of the water. The unique design of the boat stands and keel support products in the Brownell Boat Stand System allows boat yards to safely store more boats per square foot to maximize space and increase revenue. When not in use, our independently certified boat stands can be stacked and neatly stored without taking up a lot of space. Visit just about any professional boat yard or marina in the world, and you will see our trademarked blue and orange products in use.
If you are purchasing boat stands for someone else as a gift, you can use our boat stand selector via our website. This will help you choose a boat stand option based on the size, type, and needs of the vessel. Many manufacturers will provide recommendations for the type, size, and the number of boat stands required, but if you do not have that information, our sales team can help you with your purchase. Brownell boat stands can also be purchased through authorized dealers all across the country and all around the world. If you would like information on where you can find the Brownell Boat Stand System at an authorized dealer near you, just give us a call at our Massachusetts location.
Boat Stands, Keel Support, and More
If your friend or loved one already uses the Brownell Boat Stand System for their vessel, there are other gift options available that they can use in conjunction with their boat stands and keel support during maintenance and storage on dry land. Our TLC boat pads, boat dollies, boat racks, boat lifting systems, engine handling products, trailer components, and other parts and accessories can also make a great gift. Once again, the more you know about the vessel, the easier it will be to choose the best gift option. However, you could always browse through our website to look at the products, read the descriptions, and contact our team with any questions that you might have about them.
For example, our engine handling products are excellent for boat owners and marine professionals who require safe and secure handling solutions for engines. Heavy-duty construction provides long-lasting durability, which can be used for cleaning, maintaining, repairing, and storing boat engines when not in use. Small and large systems are available, depending on your needs. All contact surfaces have been coated with rubber and designed for easy maneuvering to protect flooring and reduce labor. All of our products have been designed and built with the same level of quality and care that goes into our famous Brownell Boat Stand System products. Everything is built right here in the USA by American craftsmen, so you can count on our products to perform to the highest standard.
Boat Stands and Keel Support
It is important for boat owners who haven't used the Brownell Boat Stand System before to understand how it works. Boat stands are designed to work as a balancing device. The actual weight of the boat rests on the keel stands, benches, or blocks. We sell a variety of keel support products, including stands, benches, wooden blocks, and galvanized steel blocks. Our wooden blocks are a traditional form of keel support. They come in three sizes, including 6×6 inches, 8×8 inches, and 12×12 inches and all are 22 inches in length. Our galvanized steel blocks are a new product option and are a great longer-lasting alternative to the wood. They come in 8×8 inch tubes that are 20 inches in length and weigh just 33 pounds each. The galvanized steel blocks have been load tested to hold 40,000 pounds.
When it comes to choosing keel stands and benches through the boat stand selector, you will notice that you use one product for every 20,000 pounds of vessel weight with a minimum of two keel benches for best results. Keel stands and benches come in a variety of sizes and types, featuring traditional pained blue or hot dip galvanized steel for long-lasting strength and durability in all weather conditions and climates. Choose from V-top or flat-top varieties, based on the needs of the vessel. These are very quick to install and provide a wide surface area to support boats with both small and large keels. If you have questions about keel support, you can contact our sales team and speak with someone directly.
Contact Our Team
Give us a call at 508-758-3671 to speak with one of our knowledgeable representatives about the Brownell Boat Stand System. Whether you are ready to purchase boat stands or any of our other products, require assistance with the boat stand selector or would like information on finding an authorized dealer near you, we can help. Call today and learn for yourself why so many boat owners and marine professionals trust the Brownell name for all of their marine product needs.