Boat Stands Are For Balancing: Keel Stands Are Where It's At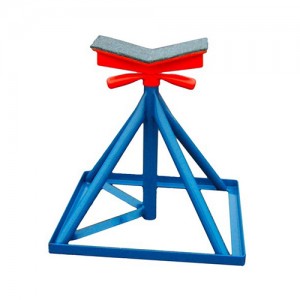 There is a common misconception when it comes to boat stands. Many people think that boat stands are responsible for holding the weight of the boat, but it is wooden blocks, keel stands and benches that do the "heavy lifting" work. Boat stands, including motorboat stands, sailboat stands, foldable stands, and stackable stands, all work as a balancing device to protect your boat when it is out of the water from falling or tipping over during maintenance or storage.
How Much Can Keel Stands Hold?
While we can't speak for other brands, the keel support products sold by Brownell, which includes keel stands and benches, have been independently tested and are certified to have a safe working load of 20,000 pounds or 9,100 kilograms. So you would need one keel stand or keel bench for every 20,000 pounds. Brownell recommends that at least two keel stands are used and placed on hard and stable ground to support the weight of your vessel properly. We have a wide variety of keel stands, ranging from the 15-24 inch range on up to the 28-42 inch range, all of which come in either a hot dip galvanized finish or our traditional blue painted finish. They can be used in place of conventional wood blocks. Our keel stands also come with adjustable solid steel ACME threaded center rods and tops for added security and strength.
How Much Can Keel Benches Hold?
Our keel stands and benches are equal in that they have both been independently tested and certified with a safe working load of 20,000 pounds or 9,100 kilograms. Just as with the keel stands, one keel bench is required per 20,000 pounds of boat. We also have keel benches in a variety of sizes and types, some that are the traditional blue painted finish and others with the hot dip galvanized finish. They come in two sizes, 16-inch and 28-inch heights, and they are designed to help save time and labor. Keel benches are very quick and easy to install, providing a wide 24-inches of surface space to help support even both small and large keel boats. Brownell recommends that a minimum of at least two keel benches be placed on hard and stable ground to carry your boat's weight properly.
What About Other Brands?
There are a lot of "knock offs" out there that try to look like Brownell Boat Stands and products, but they are inferior in many ways. The materials that we use to make all of our boat stands, keel stands and benches is 100 percent American tubular steel. Other brands use Asian steel, which has a reputation for varying widely in quality and rusts quickly. The bases of these copycat products are made of angle iron, which isn't as strong and can become easily damaged. We use a solid steel ACME threaded rod, and our keel stands and benches can even be adjusted under a tremendous load. Some of the other brands have a hollow shaft and weak threads that can bind up and cause damage to your boat.
At Brownell, we use a highly trained and skilled American labor force that takes pride in the work that they do. All of the nuts and handles that we use on our boat stands and keep support are also made of solid steel to provide unbeatable strength. We have noticed that some of the other brands use fragile castings instead, which are very susceptible to breaking. All of our top quality stands and benches are dipped in traditional blue paint, or a hot dip galvanized finish, which has been proven to provide superior rust protection, even inside of the tube. Brownell uses quality marine- grade plywood pads and our own TLC boat pads.
Why Keel Stands and Benches?
A fast and labor saving alternative to traditional wood blocks, keel stands and benches are much easier to install than having to move around a bunch of blocks into each position under the keel for proper weight support. Our keel support products are adjustable, which means you don't have to fuss with shims or other manual adjustment methods. All of our keel stands and benches are made right here in the USA and are designed to last for many years. They won't deteriorate or rot like wood. Get the right size for your boat by using our Boat Stand Selector on the website and while you're there, check out our section on Proper Use to see how they should be used.
Contact Brownell Boat Stands & Equipment by calling 1-508-758-3671 to find an authorized dealer near you or to learn more about any of the 100 percent made in America products that we manufacture right here in Mattapoisett, Massachusetts.