Boat Stand Selector: Year-Round Maintenance for Boat Owners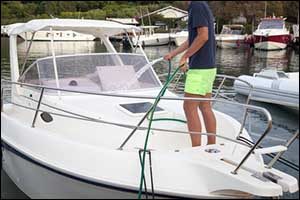 The number one goal of any boat owner should be to have all of the spring maintenance done early, so the vessel will be ready to get out on the water as soon as weather permits. The more time you have available once the de-winterizing process is complete, the more time you will have to spend enjoying your boat. Maintenance is an important part of boat ownership. Storing, servicing, and protecting your boat whenever it is out of the water is something that must be learned. Yacht stands, foldable sailboat stands, motorboat stands and all sorts of American boat stands can be used to protect your boat when it is on dry land. The Brownell boat stand selector tool will help you choose the best stands for your vessel, based on the make, model, and size of your boat.
What to Do – and When
Most of the articles that deal with boat maintenance will focus on two seasons: winter and spring. Winter is when you put your boat "to bed," either storing it on yacht stands in an indoor warehouse or on galvanized American boat stands in an outdoor storage facility. Depending on where you live, you might even store your boat in the water when it is not in use; however, that is not practical for every boat owner. Foldable sailboat stands and motorboat stands are excellent, as they don't take up a lot of space, but are perfectly designed to provide the required support for your vessel. Spring is when the boat is taken out of storage and readied for use again out on the water. There are lots of great tips online and right here in this blog that you can use to winterize and de-winterize your boat.
The boat stand selector on the Brownell boat stands website is a great tool that can help boat owners figure out what stands they need and how many. The goal is to provide optimal protection for your boat when it is out of the water, so it pays to take the time to figure out which American boat stands will work best for your individual needs. The tool takes into account the size, make, and model of the vessel, providing details as to which stands would work best to provide safe support during maintenance or storage. Even if you are not new to boating, this tool can be extremely helpful. Boat owners around the globe trust the Brownell Boat Stand System and rely on the data provided via the boat stand selector.
Summer Projects for Boat Owners
So while most of the heavy maintenance of mechanics and things like that will be done in the winter prior to storage on foldable sailboat stands, yacht stands, and boat racks, or in the spring before setting off to sail for the first time of the season, there are still some things that must be done in the summer. Why the summer? Well, some projects require warm temperatures, and if you live in a northern location, such as the New England or the American Northwest, you will need to wait it out until summer.
Some of the projects that require warmth for success include:
any job that involves paint
fiberglass work – including repairs
gelcoating projects
structural work and repairs
Examples of summer projects would include painting the bottom of the boat or making repairs to the hull. While you can try to get some of this work done at your local boatyard or boat shop, the chances are good that they will be completely booked up in the spring. If you know about the work ahead of time, you might be able to schedule it in advance. Professional boat shops can do the work indoors in a temperature controlled space, creating the opportunity to complete work that would normally have to wait for the first warm day.
Ongoing Summer Maintenance
While the bulk of the work is done in winter and spring, there are still things that you need to do to maintain your boat during the season while it is in use. Your main focus will be to maintain the great cleaning and polishing work that you did before the season started. Wash down the boat after every single use – no exceptions. This process will help to keep your boat looking new and well-maintained much longer, protecting the gelcoat and paint finish from damage.
Other work that needs to be done regularly is to rinse and flush out the boat's sanitation system with clean water from the dock. This job should be done at least a few times each season to prevent odors from building up. The more you can do as you use your boat, the less you will have to do at the end of the season to get it ready to go back into storage on American boat stands and racks. Little jobs, such as scrubbing out the bilges every now and again, should just become a routine part of ending a day out on the water to reduce the amount of major clean-up required when you are ready to haul your boat into storage.
Where to Buy American Boat Stands
If you are interested in purchasing foldable sailboat stands, yacht stands or motorboat stands for your vessel, you can use the online boat stand selector on the Brownell Boat Stand System website at www.boatstands.com. You can also call the manufacturer direct by dialing 508-758-3671. Located in Mattapoisett, Massachusetts, Brownell is the leading manufacturer of top quality boat stands in North America and around the globe.