Boat Stand Selector: Pontoon Boats for Fun Family Adventures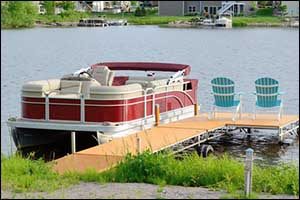 So you have always wanted to get a boat, but aren't sure what type of vessel to get. One of the best ways to get into boating is to purchase a pontoon boat. Steady, safe, easy to drive and maintain, pontoons are the perfect choice for family fun and entertaining while out on the water. Great for recreation, fishing, and just having a good time, pontoon boats are very popular with novice and experienced boaters alike.
Make sure you have a plan for maintaining your boat. Take advantage of online tools, such as the Brownell Boat Stand Selector, which will help you figure out which types of boat stands would be best for your new pontoon boat. Stackable boat stands and specialized steel pontoon boat dolly equipment can be used for dry land storage or during routine maintenance and repairs of your vessel.
Great for Families
One of the biggest challenges associated with taking kids out on the water is boredom. When you have a rowboat or small motor boat, the kids have to sit still throughout the entire trip. A pontoon boat provides kids with space to run, jump, and climb while out on the water. They can even do other activities, such as coloring or playing games, in addition to fishing, sight-seeing, waving at other boaters, or other water sports.
Excellent for both younger and older kids, pontoon boats have room to bring friends on board, something that older children can really appreciate. It encourages spending time together as a family, which is great for hard-to-reach teenagers who would rather spend all their time looking at a screen or hanging out at the mall. Let them invite their friends and spend the day or weekend out on the water. It's even better than being the popular house that everyone wants to hang out at in the neighborhood.
Perfect for Fishing
If you like to fish, there's nothing better than getting out on the lake on a pontoon. While there are many similarities to sailboat or motor boat fishing, a pontoon does have its own distinct differences. For example, when out of the water, you will need to have a steel pontoon boat dolly and other specific types of boat stands to protect your vessel. Use the boat stand selector to pick stackable boat stands, pads, and more, all designed for your specific type and size of a pontoon boat.
Pontoon boats are more stable than other vessels, making it better for fishing. Passengers can walk around the boat to fish in different spots. This makes it great for impatient kids or fishermen who are trying to find the best location out on the lake without having to move around a lot. You can also invite a lot of people to come fishing with you, as you won't be limited by space for anglers, equipment, and fish storage. When the weather turns cold, you can even add an enclosure that will allow you to stay warm while fishing.
Low in Maintenance
By far one of the biggest attractions to owning a pontoon boat is that they require very little maintenance. Made from top quality aluminum instead of delicate fiberglass, they are more likely to dent when hit than to tear. There are a lot of rocks and shallow areas in most lakes, so be prepared to get a hole in the hull. The good news is that pontoon boats are more durable than other types of boats, so it's less likely for a hole in the hull to occur. However, if it does, it is cheaper and easier to fix. Just make sure you know what types of boat stands are best and that you have a steel pontoon boat dolly on hand for use during repairs.
Getting a pontoon in and out of the water is also much easier than other types of vessels, as a pontoon boat will sit high in the water and on a specialized trailer. Again, use the Boat Stand Selector at Brownell to find out what type of trailer and pads would be best. Cleanup is easier in a pontoon, as it can be simply taken out of the water, trailered, and driven away. It doesn't need to be wiped down or toweled off immediately to protect a coating. Simple aluminum continues to look great and perform effectively for many years to come.
Contact Brownell Boat Stands
If you are interested in learning more about where to buy a steel pontoon boat dolly or wish to know which types of stands would be best for your vessel, give us a call at 508-758-3671. You can also use the online Boat Stand Selector to find out which foldable or stackable boat stands would work best in your particular situation. Made in the USA from top-quality American steel, Brownell boat stands are dependable, reliable, and tough enough to take anything you and your boat can dish out.