Boat Stand Safety Tips and Brownell Top Quality Boat Stands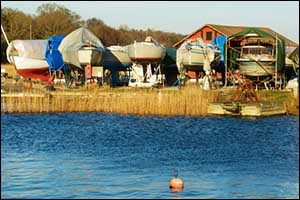 Each vessel has its own unique set of safety tips and applications that come directly from the manufacturer. However, that being said, the following list of information should be used in addition to the precautions that you already take with regard to storing your boat, whether that is on boat racks at a boat yard or using top quality boat stands on your property. Brownell makes independently certified boat stands and trailer components, helping boat owners all around the globe to safely transport and store their vessel when it is out of the water.
What NOT to Do
When it comes to using boat stands for storage or maintaining your vessel, it pays to know what you should NOT be doing. Every piece of equipment has a purpose and using that equipment to do something that is contrary to its original intention will most likely have disastrous consequences. For example, boat stands should not be used to suspend a boat in mid-air. You should also never weld or make any modifications to your top quality boat stands. They were created and tested to hold a certain amount of weight, so any changes you make might impact performance.
You should never allow anything to be tied to your top quality boat stands. That includes tarps or covers of any kind. Once your vessel is properly on top of your independently certified boat stands, never allow anyone that is not authorized or experienced to move or adjust the stands while they are in-use. If a stand must be moved or removed for any reason, put another stand in its place first. Don't ever use your boat stands, boat racks or trailer components for anything that they weren't intended to do. Boat stands that become damaged or corroded in any way should be replaced immediately.
What TO Do
Make sure to use blocking all along the centerline of the boat to take the boat's weight and use safety chains on all sailboat stands, chaining the pairs together, moving from right to left. A pair of boat stands should always be placed at the port and starboard for every eight feet of a boat's length. For best results, a minimum of four independently certified boat stands should be used per boat. Extra stands should be used for heavy sailboats. Boat stands should be applied so that the adjusting screw is as perpendicular to the hull and as far outboard as possible. Make sure that the screws are kept greased at all times.
Make sure to check on boats regularly if they are left on your top quality boat stands for any long period of time, such as over the winter season. If the ground in your storage area is soft, make sure to place plywood under the boat stands. Make sure you get the right size of top quality boat stands and never use anything, not block or pads or trailer components, to increase their reach if they are too short. Always follow the manufacturer's recommendations for storing your vessel, whether you store it on boat racks or independently certified boat stands from Brownell.
Choosing the Right Boat Stands
One of the most challenging parts of using top quality boat stands, is figuring out which stands you need and how many are required. The best way to do this is to visit the Brownell website and use the Boat Stand Selector. Just put in the type of vessel – either motor boat or sailboat – and then select the boat's length, beam and draft measurements. If you have any other questions, you can call Brownell direct or visit an authorized dealer near you.
Brownell Boat Stands makes it easy for you to choose a boat stand that will work best for your type of vessel and storage needs with our Boat Stand Selector. For the best and most accurate results, you will need to know a couple of specifications. The Brownell Boat Stand System is used as a balancing device. The weight of the boat rests on its keel, supported by keep stands, benches or blocks. Our stands have been independently tested and have a certified safe working load of 20,000 pounds. Call today at 508-758-3671 to find a dealer in your area.