Boat Safety Tips in the Summer: Brownell Boat Stand System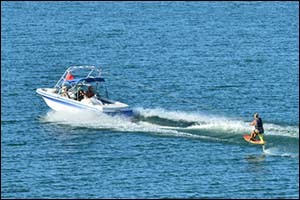 While most people aren't thinking about nested boat stands and safety chain for boat stands in the summer, the people behind the Brownell Boat Stand System are thinking about boat owners all across the country. Marine statistics reveal that as many as 700 Americans die each year due to recreational boating accidents, with a majority of those happening in the summer months. So whether you rely on our boat stands for winter storage, use our alternate marine dollies to protect your personal watercraft, or use another system entirely, our team wants to share these important summertime safety tips with you. The more we start thinking about our personal safety, the less likely we will be to become yet another boating statistic.
Why Accidents Happen in the Summer
Summertime is play time for grown-ups and kids. Everyone is excited to be out of the house after a long and cold winter, so people are a little more carefree this time of year. Boat owners are often more concerned with keeping the cooler or mini fridge stocked than they are with boating safety. They just want to get out on the water, go fishing, hang out with friends, and soak up the sun while they can. Unfortunately, with so many carefree boaters out on the water, it makes things even more dangerous than any other time of year.
Studies show that nearly 20 percent of all boating fatalities had something to do with drunk boating. While many people realize that a DUI or driving under the influence on land is a bad thing, many don't translate that to a BUI or boating under the influence. Boating while intoxicated has resulted in some serious accidents where boaters run right into jetties, other boats, bridges and other obstacles. In fact, the Coast Guard says that it is rare for a sober boater to be involved in a serious accident. In most places, boat owners can be cited for a BUI and fined.
Safety Gear
The first line of defense that you should have against boating accidents is to make sure that you have the right type of safety gear. Life jackets save lives and, according to the Coast Guard, approximately 90 percent of drowning victims each year were not wearing a personal flotation device. The other 10 percent who were wearing a life jacket were wearing a device that was not designed to properly keep the head out of the water when the wearer loses consciousness. The law states that every boat must have at least one personal flotation device for each person on board. They don't have to wear them, they just have to have them.
It is important to wear your life jacket, especially for children and inexperienced boaters, at all times. Many boat owners stow their personal flotation devices under the deck where they would be difficult to reach in an emergency. Once you are in the water, studies show it can take as little as 60 seconds for a full grown adult to drown. Excuses for not wearing personal flotation devices range from complaints about them being too hot or too cumbersome. Today's vest-style devices are designed with those excuses in mind. They keep the head above water, but are sleeker and some even come in inflatable models for a more comfortable fit.
Other safety gear that you should have on board includes:
a working cellphone with a modern VHF marine radio as backup
a first aid kit
a safety kit, complete with flares and other essential gear
a fire extinguisher, make sure to check the service date
Before You Go Out on the Water
The best way to stay safe is to make sure that you bring your boat in for a safety check before you go out on the water. You protect your boat by using top quality equipment from the Brownell Boat Stand System, such as our nested boat stands, alternate marine dollies and safety chain for boat stands, why wouldn't you protect yourself and your passengers by ensuring that you have the best safety gear and equipment available as well? Perform regular hull inspections, take care of your engine and components, provide proper maintenance, and do everything you can to protect your marine investment and your precious cargo.
When the season is over, you can trust the wide range of products available in the Brownell Boat Stand System to protect your vessel. Choose from a wide range of nested boat stands, keel stands, engine racks, safety chain for boat stands, trailers, pads, alternate marine dollies and other essential accessories to keep your boat safe over the winter. To find a Brownell Boat Stand System dealer near you, give us a call at 508-758-3671 or visit our website at www.boatstands.com to use our boat stand selector to find out which products are right for you.