Boat Racks: What Are Your Plans for Off-Season Boat Storage?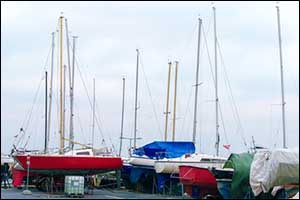 Whether you are a new boat owner or if you have owned boats for many years, it is important to know right now in the middle of boating season what you will do with your boat during the off-season. Will you store it in a garage or nearby warehouse? Will you be using marine industry stands and keep it at a local boat yard? Wherever you decide to store your vessel, make sure that you have the proper equipment to store it safely and effectively.
The Brownell Boat Stand System has a little bit of something for every boat owner. Sailboats, power boats, pontoon boats, personal watercraft – whatever you own or whatever you are into, we have top quality stands and boat racks designed to help keep it safe when out of the water. Proper storage is essential to protect your vessel during off-season storage, maintenance, repairs, or any other type of servicing. To determine which equipment is best for your boat, you can consult with the online boat stand selector or speak with an authorized dealer at one of our worldwide locations.
How to Use Boat Racks
While we talk a lot about sailboat and motor boat stands, there are certain situations where boat owners would be better off using boat racks instead of marine industry stands. Boat racks are a part of the Brownell Boat Stand System and are the perfect fit for powerboat keel support when used in boat yard for storage or for repairs, power washing, painting, and other maintenance services.
The sturdy construction of the boat stands, bow stands, and stern stands work to support the weight of your vessel, while creating a smaller footprint than traditional wood blocks. This provides easier access for painting, washing, and maintaining your boat.
Whether your goal is to winterize your boat in the off-season or simply perform maintenance services prior to storage in the boat yard, these boat racks from Brownell are perfect for yards that are equipped with hydraulic trailers. Like other marine industry stands and equipment from the Brownell Boat Stand System, these boat racks can be easily stored out of the way while not in use, making them ideal for busy or crowded storage yards.
Boat Racks, Bow Racks & Stern Racks
You might be wondering what the difference is between these three types of racks that are listed on the Brownell website. The basic boat rack is 51 inches high and is available in either hot dip galvanized or traditional blue paint finish. The bow rack is a universal rack that can be used for a variety of different types of boats. It is available in a 28 inch height and comes in either hot dip galvanized or traditional blue paint finish. The stern rack comes in two different heights to accommodate different types of boats, ranging from 31.5 inches to 54 inches in height and 41 inches in width. Once again, both types are available in either hot dip galvanized or traditional blue paint finish.
Off-Season Storage Tips
In addition to these top quality boat racks, any of the marine industry stands from the Brownell Boat Stand System can be used for additional stability. This is especially important if your vessel will be stored up on boat racks for an extended period of time. They can be removed while maintenance, cleaning, and other services are being performed and stowed away quickly, either folding or stacking in place.
Brownell's boat racks are designed to be used with fork lifts and hydraulic tailers, and they are ideal for use at dry stack facilities for boats that are up to 20,000 pounds. Boat racks are a great way to quickly and efficiently set-up your vessel for servicing or storage. Make sure to do a little research to determine whether your boat would benefit from motor boat stands and other marine industry stands from Brownell or if the boat racks options from the Brownell Boat Stand System would be right for you.
Contact Brownell or Visit a Local Dealer
How can you get Brownell products at a location near you? Give us a call at 508-758-3671 to find an authorized dealer for the Brownell Boat Stand System, accessories, boat racks, and other essential marine industry stands and equipment. Or, you can also visit our website at www.boatstands.com and use our online boat stand selector. Just input some basic information about your vessel and this handy tool will provide you with the results that you need to choose the best boat stands, racks, and systems available.