Boat Lifting Systems & Top Quality Boat Stands for Maintenance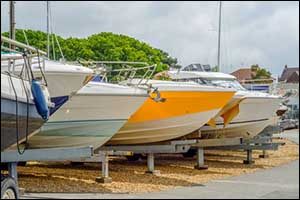 Maintaining your vessel is an important part of boat ownership. Making sure that everything is functioning as it should and that there are no leaks, decay, or damage underneath your boat is something that should be done at least once or twice each year. Depending on the size of your boat, this might not be an easy feat. The Brownell Boat Stand System features many different types of tools and equipment that you can use to reduce labor during regular boat maintenance and repairs. Top quality boat stands for motor boats, foldable sailboat stands, keel stands and benches, trailer components, and our manual or hydraulic boat lifting systems are available through our website or at an authorized dealer near you.
Brownell Boat Lifting Systems
We currently offer four different products that can be used to help you safely and easily lift boats to get the on or off of a trailer. This can be a huge help if you are maintaining your boat with a small crew or, with our Trailer-Mounted Boat Lift, if you are by yourself. Brownell has earned a solid reputation for manufacturing and providing top quality marine industry products right here in the United States and all around the globe.
The Brownell Hydraulic Boat Lifting Systems – By far the fastest solution for removing a trailer from underneath a boat to provide maintenance services. Start painting, repairing, and maintaining your boat a lot faster when you use this lifting system made from heavy duty American steel. Protected with hot dip galvanized base and upright, this system is designed to work hard and last for many years. Each jack features a safe working load of 3,000 pounds or 1,360 kilograms. We recommend that you use four jacks together to safely lift a boat of up to 12,000 pounds or 5,440 kilograms.
The Brownell Foldable Boat Lift System – Allows lifting for a boat that is up to 5,000 pounds and up to 25 feet in length. Our innovative strap design helps boat owners to easily use this with a variety of different hull shapes and sizes. It can accommodate trailers up to 108 inches wide and works with boats at a maximum height of 94 inches. The anodized aluminum frame of this lightweight, folding design makes it easy to store and transport. Top quality boat stands should be used at the stern to complete this option in the Brownell Boat Stand System.
The Manual Boat Lifting System – Made from heavy-duty American steel, this piece of hearty equipment features our traditional painted blue and orange finish for added protection from corrosion and damage. This lifting system can be used to lift boats that are up to 5,000 pounds and works with trailers that are up to 103 inches wide. It includes two adjustable stern stands, a steel lifting beam, two bow lifting stands, and two adapters to accommodate most hull shapes.
The Brownell Trailer-Mounted Boat Lift – A very safe and stress-free way to raise a boat that weighs up to 10,000 pounds. This tool can be used to lift up to twelve inches above the bunks or rollers with just a single operator. These boat lifting systems make it easy to apply bottom paint and perform routine maintenance while your boat is still attached securely to the trailer. It includes four trailer lifts and works with trailers that have a beam height of 2-3 inches in width and 4.5-5.75 inches in height. Simply position under the four strongest areas of the boat, which includes the hull chines, stringers, and transom.
Top Quality Boat Stands
Depending on the type of vessel that you will own, you will either need Brownell foldable sailboat stands or stackable motor boat stands, or a combination of both. Keel support is provided through benches, stands, and wooden or galvanized steel blocks. The Brownell Boat Stand System can be customized for each user depending on the size, weight, and type of the vessel. Our online Boat Stand Selector tool can be used to help you identify which top quality boat stands will work best with your vessel. Give us a call at 508-758-3671 to learn more about our boat stands and boat lifting systems or to find an authorized dealer near you.