Boat Lifting Systems: Safely Docking & Dry Docking Your Boat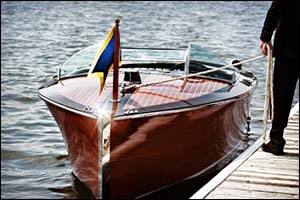 One of the more frustrating experiences when learning how to operate and take care of your boat is getting the act of docking down pat. It can be pretty overwhelming, especially when it feels like everyone on the crowded marina is looking at you and waiting for you to fail. However, there are some tips that will help you learn how to dock your boat properly that will make you look like a pro. Once your boat is safely docked, you can use Brownell boat lifting systems to safely pull your vessel out of the water for dry docking. Choose from a wide variety of yacht stands, keel stands and benches for our Brownell boat stand system that will help you to effectively dry dock your boat for repairs or support it properly throughout the winter in storage.
How to Properly Dock Your Boat
The next part of this article will focus on tips that you can use to help you to safely and properly dock your boat. Most of these tips come from other boaters who have made costly mistakes when docking and realized quickly what they had done wrong. Learn from the mistakes of others and take that knowledge to do a better job for you and your vessel.
Step One – Go Slow
Make sure that you approach the dock at a speed slow enough that it wouldn't do damage even if you were to bump into it by accident.
Step Two – Go It Alone
Don't let anyone else tell you how to do it. If you are the captain and docking the boat is your responsibility, make sure everyone else knows not to be a "backseat boater" and that they should keep their opinions to themselves.
Step Three – Go Practice
The truth is that the more time you actually spend out on your boat in the water, the better you will be able to control your vessel and dock it properly when the time comes. If you don't know how your boat handles, then there is no way you will be able to get your boat into a tight spot at a crowded marina. You might as well not even try.
Step Four – Go Think
If you think about all of the possible scenarios that you might face when attempting to dock your boat, such as current and wind or the size of the space, you can learn to overcome these obstacles. Think about the approach that you want to make and try to use the current and the wind to your advantage whenever possible.
Step Five – Go Carefully
If you are at a new marina, make sure to pay attention to where the flow of traffic is coming from and going to with the entrance and the exit. You will want to make sure that you pay attention to other boats and other potential obstacles before you just plow into the space without a care. Cross traffic and faster traffic in certain areas can cause problems if you don't take the time to anticipate what they are doing.
Step Six – Go Away
If you are not comfortable with your approach or think that you might be going too fast to dock safely, just wave it off and come back to it again. There are lots of boaters – both experienced and new – that have had to go around and come back at it for a second or third try. It is better to get it right and avoid damaging your boat or the dock at the marina than to have to deal with repairs.
The Brownell Boat Stand System
Once you get your boat docked and are ready to pull it out of the water for repairs, painting or for seasonal storage, make sure to trust the products available from Brownell. Use only boat lifting systems that you trust, as well as well-designed and built yacht stands, keel stands and benches that are made right here in the USA by Brownell. With over 50 years of experience fine-tuning our Brownell boat stand system, you can count on top quality products with your pride and joy.
To find out more about Brownell boat stands and the Brownell boat stand system, give us a call at +1-508-758-3671. Our products are made in America from top quality American steel to provide you with long-lasting, great-looking, durable results. Contact us today or visit our website to use our boat stand selector tool to find out which products will work best with your unique situation.