Boat Dollies & Keel Stands: Summer Boat Maintenance Services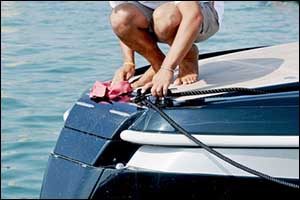 Your boat is in storage during the winter, taking advantage of the quality support that comes from using the Brownell Boat Stand System. Your boat is out on the water in spring, as soon as the temperatures start to get warm. By summer, however, you realize that there is maintenance to be done. So after taking care to use the right boat dollies or personal watercraft dolly, and then carefully moving your vessel up onto boat stands and keel stands, you can begin to take care of business.
Before you take your boat out for an extended trip out on the water, make sure to take care of these seven essential maintenance services, which will help you to have a worry-free experience. You don't want to take time off of work, get your boat out to the bay and then find out that you need repair work done. Getting your boat fixed at an unknown location by mechanics that you aren't familiar with can end up costing you a lot of money. It will also cost you a lot of time that could have been spent out on the water.
Check One – The Hull
If you do not get your boat's hull checked and serviced throughout the summer months, it can have major negative impacts. Hull bottoms can quickly become clogged if they are not serviced, which can cause problems such as increased black smoke, inability to reach full RPM, vibrations and difficulty running for long periods of time. Regular maintenance and servicing can help to keep your boat running effectively and efficiently for many years to come. Once-a-month servicing during the summer is the minimum for boat owners, however more frequent users should performing checks and servicing even more frequently.
Check Two – Shift & Steering
The next thing that you need to do is to check the shift linkage and the steering, to ensure that it is properly lubricated. The hot, dry temperatures and regular use of your vessel during the summer can cause issues with shift linkage, which can really affect the performance of your boat. Make sure to lubricate these areas regularly during the summer to avoid any problems.
Check Three – Strainers
The next phase is to check the basket strainers to remove all of the debris and waste. Marine growth, which is even greater in the summer months, can clog up your raw water systems, which affect your A/C units and open-circuit systems for the generators and main power sources. Basket strainers should be cleaned at least once a month or more often if you have boats that are in an area of high algae growth.
Check Four – Coolant
Whether you are going out on a fishing trip or just taking a quick tour of the local waterway, make sure to check your engine's coolant to make sure that it is filled to the appropriate level. The coolant and fresh water should be at a 50:50 ratio, unless the manufacturer's instructions state differently. It is important that you have the right level of coolant as well to ensure that the engine functions smoothly.
Check Five – Engine
Throughout the summer, take time to really check the engine, the oil, the filters and any other components. You should also take care to look at the wiring and ignition, to make sure that there isn't any wear and tear. Engines that operate effectively and efficiently will ensure a safe trip out on the water.
Check Six – Mooring
If you will be mooring your boat, make sure to check the system regularly, including the line, anchor and connectors. Because it can be used to station your vessel in all water depths, it is important to check the lines regularly to ensure that they are fully operational. If you moor your boat throughout the year, you will need to take it out and store it on keel stands and other parts of the Brownell Boat Stand System accordingly to re-apply paint to the hull for better protection services.
Check Seven – Equipment
Make sure that you have all of the boat dollies, keel stands, personal watercraft dolly and other essential elements of the Brownell Boat Stand System. If you aren't sure which type of equipment is right for your type of vessel, you can use the Boat Stand Selector on the Boatstands.com website or speak with an authorized dealer.
To locate a Brownell Boat Stand dealer near you call 508-758-3671. You can also use the Boat Stand Selector on our website to help you choose a boat stand and get an idea of what to expect with regard to pricing. We have a wide variety of yacht stands, foldable sailboat stands, keel support, boat pads, trailer accessories and much more to help you take good care of your vessel.