Benefits of Choosing High Quality TLC Boat Pads for Storage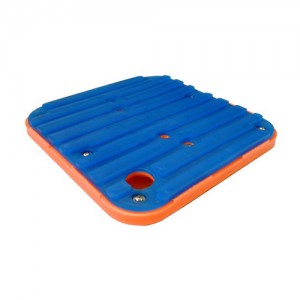 We talk a lot about yacht stands, foldable sailboat stands, and provide tutorials on how to choose a boat stand, based upon the size of your vessel and what you want to do with it. However, it is also important to talk about boat stand pads, which are designed to protect your boat while it is out of the water. High quality TLC boat pads from Brownell are less abrasive than the standard boat stand pads that you will typically see, which are made out of plywood. While Brownell does sell their own version of the basic plywood pad, our goal here today is to talk about the different types of boat pads and the benefits that they provide.
The TLC Boat Pad Difference
The first thing you will notice about our high quality TLC boat pads is that they look different from other pads that you might have used in the past. They are designed to help protect delicate finishes in the hull of your vessel, including gel coats, epoxy and other fine wooden surfaces. Our TLC boat pads feature a TPE surface and can be mounted on any Brownell boat stand. They can also be mounted on any type of adjustable trailer top. The design includes strategic channels that are created to help drain and reduce moisture on the hull, preventive blistering and other types of damage.
The name says it all, our high quality TLC boat pads were designed with Tender Loving Care, to help protect your vessel during storage or repairs. Like all other Brownell products, our boat pads are made in the USA. They also include all of the required fasteners, allowing you to completely change out and update everything at once. While our TLC pads are the most effective and popular pads that we sell, we do offer wood pads for our customers who prefer to use plywood mounts instead. All of our products are designed to last for many years, providing excellent value, just like our yacht stands and foldable sailboat stands.
Replacement Top Pads
In addition to our high quality TLC boat pads, customers count on the quality design of our replacement top pads. Made from three-quarter-inch Marine Grade Plywood, each of our replacement top pads are 12 inches by 12 inches. They come in blue, grey, and orange, with each style including all of the required fasteners. Our goal is to create reliable products for our customers that they can count on to protect their vessels. When it comes time to choose a boat stand or any other accessories and parts for boat storage, transportation, and repairs, we hope that you will count on the Brownell name, as many have since 1954.
All of the products and components made by Brownell are engineered and made right here in the USA at our Mattapoisett, Massachusetts location. Keel stands, yacht stands, sailboat stands, motor boat stands, foldable sailboat stands, stacking stands, and much more can all be purchased through our authorized dealers. You can even find out how to choose a boat stand online, just by using our web-based boat stand selector. From small boats to large yachts, Brownell is a trusted name in the marine industry for both personal and commercial clients all around the globe.
Screw Thread Tops
Now that you understand the importance of purchasing high quality TLC boat pads and other quality boat pad materials through Brownell, it is also important to know that Brownell also sells a wide range of sizes and styles of replacement tops with screw threads. Some of our clients use them as replacements for tops that have become worn, while others use them to change the configuration of existing yacht stands. In fact, they can even be used to help boat owners fabricate their own trailers or cradles for transportation.
Some of the replacement tops available from Brownell include:
keel stand top (13-inches)
blue top (16-inches)
blue v-top (16-inches)
blue wide v-top (16-inches)
grey top (23-inches)
grey v-top (23-inches)
grey wide v-top (23-inches)
orange top (27-inches)
orange v-top (27-inches)
orange wide v-top (27-inches)
replacement pontoon top (16-inches)
TLC top (16, 23, and 27-inch options)
All of our replacement tops are made from solid American steel and feature an ACME threaded rod, which is adjustable under the load. The bottom is unthreaded for safety and also features a steel handle, which is designed to be extremely durable and sturdy. Choose from our traditional blue or orange painted tops, designed to match our foldable sailboat stands, yacht stands, and other boat stands, or our galvanized steel designs.
Brownell Boat Stands
The name in boat stands throughout the marine industry, Brownell Boat Stands have earned a solid reputation for being the best quality boat stands that have ever been made. Choose a boat stand with our online boat stand selector or give us a call at 508-758-3671 to find an authorized dealer near you. Take advantage of all the benefits that come from choosing our high quality TLC boat pads, tops, and other accessories to create a system that will work to protect your boat while it is in storage.