American Boat Stands & Boating Safety Courses for New Owners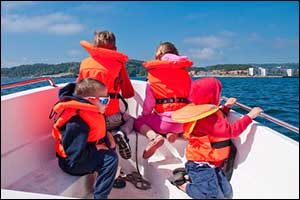 There are a lot of boating safety courses available in the United States, either for new boat owners or even renters. They cover a lot of different types of boats, ranging from sailboats to motorboats, personal watercraft, and even canoes. If you are new to boating – or need a refresher – you should take one of these helpful courses. Many states require that you take a boating safety course before operating a vessel in their waters, so make sure to check the laws in each state if you are taking your boat on the road.
Some courses, such as the ones offered by the U.S. Coast Guard Auxillary or U.S. Power Squadron, are accepted by most states, so you might not have to do anything but show your certification when renting or using a boat on vacation. However, it pays to take the time to check it out before you head out on the road so you can avoid any unexpected frustrations. Specialized courses are also available, both on and offline, so if there are any special skills that you want to learn, make sure to look into it.
Safety First
It is also important to know how to take care of your boat when it is out of the water. Top quality boat stands, made in the USA by Brownell are a great way to maintenance and store your boat on dry land. Galvanized boat stands are strong and durable, made from American steel and made right here in the USA. If you aren't sure what type of boat stands you need, as they come in a wide variety of sizes, styles, and types, make sure to use the Boat Stand Selector on the Brownell website so you can get the best American boat stands available for your type of vessel.
There are a lot of great reasons why you should sign up for a boating safety course, even if you have experience operating a motorboat or sailboat. The first – and most important – the reason is safety. It takes skills and knowledge about boating regulations and etiquette to safely operate a boat, especially in a crowded marina or around other boaters. Much like driving a car, it is important to learn the rules of the "road," while also being aware that not everyone will be paying as much attention as you are when out on the water. You will need to anticipate the actions of some boaters to protect your vessel and passengers.
Legal Obligations
Depending on where you want to use your boat, you may be legally required to complete a safe boating course. Teenagers and young adults are usually required to have taken a course, even if they are operating a boat on a small lake. Some states have rules about motorboats that have a lot of horsepower, so make sure you know those restrictions as well. A visit to the Fish & Game website for the state you are visiting should provide you with enough information to know what your legal obligations will be regarding safety courses, insurance, and licensing. Other valuable information will also be given to help you have a safe and enjoyable experience.
Children aged 12 and up can also attend boating safety courses, and they are encouraged to do so even if they are just passengers. Most states have restrictions with regard to the age of the operator, so if you want to let your kids take the wheel, make sure you get them into a course. Online courses are also available, which makes it convenient to folks who are traveling to another state or region and want to operate their boat. An exam is required to get certification, which will usually cost a small fee.
Studies show that taking a class in-person is much more valuable than anything that you can take online. This is based on what is known as a 70/20/10 model, which states that people learn 70 percent from real-life experience, 20 percent from interaction with other people, and 10 percent from reading the information. With an online course, you could be missing out on as much as 90 percent of the learning experience, leaving you without a lot of valuable boating knowledge.
Top Quality Boat Stands from Brownell
Once you take your course and are ready to buy or use your new boat, make sure that you are prepared for off-season maintenance and servicing. Check out Brownell boat stands, made in the USA from top quality American steel. Choose from our traditional blue painted American boat stands or our popular galvanized boat stands for added protection from the elements. Whether you store your vessel indoors or out, you can count on top quality boat stands from Brownell to keep it safe and secure.