Alternate Marine Dollies: Storage Tips for Personal Watercraft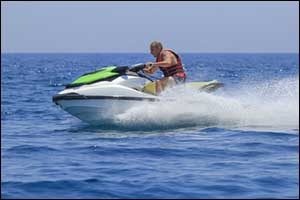 With spring in full bloom, there's nothing that water-loving folks enjoy more than a season of hitting the water on a personal watercraft. Whether you got a Jet Ski, Ski-Doo, or some other type of PWC vessel, it is important to take proper care of it so it will be ready the next time you want to get out on the water. People use PWCs just about anywhere there's water, from lakes and rivers to seas and oceans, they're just a lot of fun. Alternate marine dollies, such as a small craft or personal watercraft dolly, are a great way to store and maintain your PWC when it is out of the water. While you might tow your vessel to the water on a trailer, that's not always the best bet for long-term storage and maintenance.
Brownell Boat Stands, the maker of top quality foldable sailboat stands and stackable motorboat stands, also has a line of alternate marine dollies. Our line features small craft dollies, a personal watercraft dolly, heavy duty marine dollies, and even a steel pontoon boat dolly. Whatever you need to move your PWC around the shop or showroom for cleaning, maintenance, or showcasing, Brownell can provide you with the best equipment for the job. All of our equipment is made using top quality American tubular steel, providing long-lasting durability and reliability for all of your marine needs.
Pick a Safe Place for Storage
The first thing you will need to do is choose a safe place to store your PWC. While many people simply store their Jet Ski or Ski-Doo in a garage or backyard shed, not everyone has that option. Storage facilities that have outdoor roll-up door access can be a great solution. They are affordable and can provide enough storage space for your PWC, safety gear, and accessories. It is important to ensure that your PWC is stored in a safe and stable condition to prevent damage while not in-use. A personal watercraft dolly or durable alternate marine dollies can be used for this purpose. Brownell has a couple of options available to provide you with a protective solution for your PWC in storage.
Other options include a dry dock or stack storage at your local marina or boat yard. However, these solutions can get quite pricey, so make sure to get all of the details before agreeing to this type of storage solution. You don't want to over-pay for storage, but you do want to get a safe place to store your PWC when it is out of the water. Make sure to go the extra mile to drain the fuel and disconnect the battery before placing your PWC into any type of storage, even your own home garage. Depending on where you live, winterizing might be required as well to prevent the fuel line and other components from freezing up in winter weather. Servicing should be done before putting your PWC for any length of time. Check with the storage facility for any rules and regulations regarding storage of your PWC or any other marine-related equipment.
Options for Safe Storage
If you live in a climate where winterizing is not an issue, there are other things you can do to protect your PWC while in storage on your own property. Just as you would use foldable sailboat stands or motorboat stands, a steel pontoon boat dolly, or any other type of alternate marine dollies, make sure to choose the right personal watercraft dolly for your needs. Make sure it can support the weight of your vessel and provide the proper balance while in storage. If winterizing is not required, you can also choose to stabilize the fuel with a fuel stabilizer in some situations. It will depend on the type of fuel that you use, where the PWC will be stored, and how long you need to store it. Safety should always be first!
For best results, either disconnect or completely remove the battery from your PWC before storing. You can use a battery maintainer if you have the opportunity and the space. Most storage units will not allow for things to be plugged in and left unattended. However, if you are storing it at home, this could be a great option. You could even just bring the battery home and store it in your garage while plugged into a battery maintainer while not in-use. Winterizing is important if you live in an area where the temperature drops to freezing or below and snow and ice are a concern. If you don't properly store your PWC on a personal watercraft dolly and winterize the engine, you could end up with a cracked block.
Brownell Alternate Marine Dollies
To learn more about the options for foldable sailboat stands, personal watercraft dolly storage, and steel pontoon boat dolly products, visit the Brownell Boat Stands website at www.boatstands.com/product-category/boat-dollies. You can contact our team at 508-758-3671 to learn more about our top quality boat stands and equipment or to find an authorized dealer near you.