Alternate Marine Dollies: How to Protect and Store Your PWC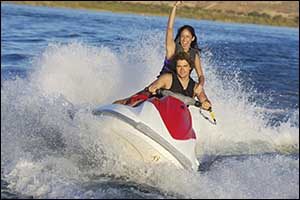 One of the challenges faced by personal watercraft (PWC) owners is how and where to store their jet ski equipment when it is not in use. While many store their watercraft in the garage, a lot of modern homes simply don't have the garage space necessary to store a common two-place trailer with skis on them. As a result, many PWC owners have relegated themselves to keeping their jet skis outdoors, which exposes them to the elements and increases issues with theft, or pay a hefty fee to place them in a storage facility. The convenience of keeping your PWC on-site in your own garage or storage shed is very appealing to most owners, which is why they often continue to search for another solution.
The Brownell personal watercraft dolly is an excellent option for many PWC owners. Taking your jet skis off the trailer and moving them onto alternate marine dollies will provide you with the opportunity to store, maintain, and even repair your PWC more effectively. Picking the best personal watercraft dolly is a lot easier than figuring out how to choose a boat stand system for a sailboat or motorboat. However, you can get these Brownell products at the same marine store if you know where to buy boat stands in your area. Alternate marine dollies offer many benefits, helping you to safely store your PWC in your home garage or backyard storage shed to avoid keeping it outdoors or pay big fees for a storage facility.
Brownell Alternate Marine Dollies
When it comes time to choose a boat stand, most boat owners know to trust the Brownell name. The same is true when it comes to a personal watercraft dolly or storage systems that can be used with other types of vessels. In addition to our Small Craft Dolly, which is perfect for personal watercraft, dinghies, and other small vessels, we also have a full line of alternate marine dollies for pontoons, tritoons, and other larger vessels. Great for storage, workshops, showroom floors, and much more, if you know where to buy boat stands locally, you can likely see these dollies in action.
All of our personal watercraft dolly products and alternate marine dollies feature non-marking wheels and our legendary adjustable screw pads. These are just like the ones used on our popular boat stands. Our Small Craft Dolly is protected with our traditional blue painted finish, features heavy-duty American made construction, and has been independently tested to support up to 2,000 pounds. Our adjustable personal watercraft dolly can be safely configured to provide you with all the support you need to care for your PWC while it is out of the water. Brownell has earned a solid reputation for providing the best quality boat stands and marine products ever made.
Safe Use of a Personal Watercraft Dolly
Make sure to read all of the literature that comes with your PWC owner's manual and the instructions for the use of your personal watercraft dolly before proceeding. One essential tip is to have the trailer hitched up to your tow vehicle to provide extra stability during this process. Although you will see lots of videos on how to unload a jet ski or other PWC onto alternate marine dollies, don't try to do this yourself. Most PWC will weigh over 800 pounds, so you don't want to attempt this on your own, even if you have experience with this type of work. Choose a boat stand dolly that has rolling wheels and make sure that the weight capacity works with your PWC.
The PWC must be properly balanced when on the personal watercraft dolly, so you need to have a basic understanding of the weight distribution in your jet ski equipment to know the best place to put the stand. Taking the proper precautions is an essential part of using alternate marine dollies and other types of boat stand system equipment to protect your vessel when it is out of the water. This is true for sailboats, motor boats, pontoon and tritoon boats, PWC, and even small dinghies. If you would like to learn more about how our Small Craft Dolly can be used with a jet ski or another type of PWC, visit our website and view the video on this page for a demonstration.
You Can Trust Brownell
When it comes to marine equipment, you can trust the Brownell name. We have earned a solid reputation within the marine industry and are known by professionals all around the world for providing the best quality boat stands and products ever made. Constructed of top quality American steel by skilled craftsmen in our Southeastern Massachusetts facility, we take pride in ensuring that our products are designed and manufactured to exceed customer expectations. Whether you are an individual watercraft owner or work in the marine industry as a professional, you can count on our alternate marine dollies, personal watercraft dolly products, boat stands, keel support, and trailer components for durable, dependable results. Choose a boat stand or marine product from our website or give us a call at 508-758-3671 to learn where to buy boat stands and Brownell products at an authorized dealer near you.