Alternate Marine Dollies: How to Choose a Boat Stand for PWC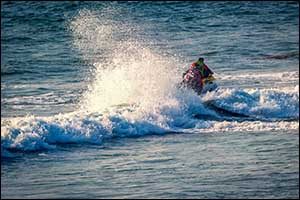 While you see a lot of information about choosing the right galvanized boat stands for motorboats or sailboats, there isn't a lot out there for personal watercraft or PWC vessels. The truth is that the best choice for maintenance, repair, and storage of small craft and PWC is alternate marine dollies, which are designed for use with smaller vessels. Wedge stands for boats can also be used, but are generally intended for use with larger motorboats or sailboats. When it comes time to choose a boat stand or storage option, consult your owner's manual or contact one of our team members at Brownell. We can answer any questions that you might have about safe and secure boat storage, whether you own a Jetski, bass boat, or a pontoon.
What are Alternate Marine Dollies?
Unlike the typical wedge stands for boats, alternate marine dollies are great for use in workshops, showrooms, storage facilities, and even at boat shows. We went above and beyond to create top-quality dollies that feature non-marking wheels and take advantage of our legendary adjustable screw pads, just like the ones on our Brownell painted or galvanized boat stands. Choose from a variety of dollies, based on the type of boat that you own and what you want to do with it.
Small Craft Dolly (SCD1) – designed to the easy transfer and storage of PWCs like Jetskis and Skidoos, small sailboats, dinghies, and other smaller craft both to and from the water. This product is protected with our traditional painted blue finish for added resistance to corrosion both inside and out. The American-made construction steel can support up to 2,000 pounds.
Heavy Duty Boat Dolly (BD2) – a low profile dolly with a 2.5-inch ground clearance. Designed for use with larger craft up to 8,000 pounds, available in traditional blue painted or hot dip galvanized. This boat dolly features an adjustable height option of 15.5 to 21.5 inches and an adjustable width option of 35.5 to 43.5 inches, depending on your needs. Non-marking wheels and our legendary adjustable screw pads, just like the ones we use on our famous wedge stands for boats.
Maxi Heavy Duty Boat Dolly (BD1) – another low profile dolly, but each pair has a 20,000-pound capacity, which can be linked together for larger vessels. The BD1 features an adjustable height of 19 to 46 inches and an adjustable width of 55-91 inches, depending on your needs. Non-marking wheels and adjustable screw pads, just like the ones on our Brownell painted and galvanized boat stands.
Steel Pontoon Boat Dolly (PD2) – heavy-duty and designed for use in workshops, storage, showrooms, boat shows, and production facilities. A foam pad has been added for maximum protection, and four-inch non-marking casters have been used for easy movement. The frame itself is 19 x 19 inches. Contact our team direct to find out if this is the right boat dolly for your pontoon boat.
Prepping Your PWC for Spring
Bringing your personal watercraft out of storage for the season means reversing all of the work that you did for winterizing. You'll need to uncover, clean and prepare your vessel, reconnect the battery, and make sure it is fully charged and working as it should. If you did an oil change, you wouldn't need to do that now, so your PWC should just start right up without any issues. The fuel tank should also be full to prevent any condensation over the winter, so everything should be ready to go. You may want to wash it up and wax it, to remove any dirt, dust or grime that made its way underneath the cover while in storage.
All of this work will help you to maximize your time out on the water and reduce time wasted taking care of it on the day that you plan on using it for the first time of the season. Follow any suggestions or recommendations in the owner's manual to reduce the chance for operating issues with your PWC. Check over your trailer, including the tires and pads, to make sure that everything is ready to go before you put your PWC on it for hauling. Don't forget the trailer license and any licensing or registration for your vessel. If you took the time to choose a boat stand or alternate marine dollies that were best suited for your vessel, you shouldn't have to do any repairs for damage during storage.
Brownell Marine Industry Equipment
Regardless of the type of vessel that you own, Brownell has the tools and equipment you need to maintain, repair, safeguard, and store it while on dry land. From boat lifting equipment to wedge stands for boats, our team can help you choose a boat stand or another type of product, based on your specific needs. Give us a call at 508-758-3671 or use our online Boat Stand Selector tool to find the right traditional painted or galvanized boat stands, alternate marine dollies, and TLC boat pads for your vessel.