Alternate Marine Dollies for PWC Maintenance, Repair & Storage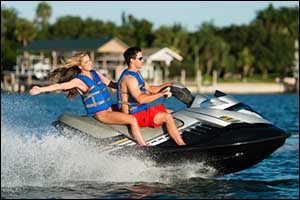 In addition to our world-renowned top quality boat stands, Brownell also offers other types of boat stands and personal watercraft dolly storage equipment. Alternate marine dollies can be used for a variety of personal watercraft (PWC), including jet skis, dinghies, and other small vessels. We also have a series explicitly designed for pontoons, tritoons, and other types of high-performance sporting boats. You will see the same commitment to quality and high standards in every piece of equipment that we make at Brownell. All of our equipment is made in the USA by experienced craftsmen, using top quality American steel. We stand by the products that we design and manufacture. You can count on the Brownell Boat Stand System and equipment for the protection and support of your vessel.
The Small Craft Dolly
One of our most popular types of alternate marine dollies is the Small Craft Dolly (SCD1). It can be used in your workshops and storage facilities, but it also looks and performs excellently in showrooms and at boat shows. Many of our commercial clients even use them in production facilities. All of the dollies that we make are designed with the end user in mind. They feature non-marking wheels and our legendary adjustable screw pads – the same ones we use for our Brownell Boat Stands.
The personal watercraft dolly is great for all types of small power craft, including the popular jet skis, water scooters, and other brands of recreational watercraft. Designed to transfer your PWC to and from the water easily, this model is protected by our traditional painted blue finish. The frame can be adjusted according to the width of your vessel, and the American-made heavy-duty ACME steel construction has been tested to support up to 2,000 pounds or 900 kilograms. They are also designed to work with our entire line of products to protect and support your PWC vessel.
What is a PWC?
In the simplest of terms, the average length of a personal watercraft (PWC) is around 10 feet. However, they can be much larger and much smaller. A PWC is considered by the US Coast Guard to be a Class A vessel, which means that all of the laws and regulations that apply to a boat under 16-feet in length will also apply to your PWC. Each state has its own rules regarding age of operation and requirements for education. So before you rent a PWC on vacation or agree to buy one for your teenager, make sure to read up on the regulations.
Safety equipment is required for a PWC just as it would be required for any other type of vessel. In fact, many PWCs have the acceleration power of a high-powered motorcycle, so safety is definitely an important point to go over with passengers and operators alike. A life jacket is required for each operating passenger, as well as any persons being towed. A US Coast Guard approved B-1 rated fire extinguisher must be kept on board, as well as an approved sound-signal device, such as a horn or a whistle. In addition, the operator must have an emergency engine cutoff lanyard attached to themselves during operation. Vessel registration numbers, letters, and any validation decals must be properly displayed.
In addition, the following safety equipment is recommended for safe usage:
basic first-aid kit, which should include burn cream and sunscreen
an anchor and enough line for the area
hand-held VHF radio and backup cellphone for emergencies
a skier-down flag and rear-view mirrors if pulling a skier
daytime distress signals, such as a signal mirror, orange flag, or flares
hand-operated bilge pump for dewatering situations
Ongoing Maintenance & Services
Similar to other types of vessels, it is important to stay on top of ongoing maintenance and services to increase the life and performance of your PWC. Using a personal watercraft dolly, much like our top quality boat stands, PWC owners can perform engine maintenance, cleaning, and service as-needed. Brownell has a wide range of options, including different types of boat stands, dollies, pads, and accessories. If you are in the market for alternate marine dollies and other essential equipment, visit our website at www.boatstands.com. You can also contact our office in Mattapoisett, Massachusetts by calling 508-758-3671. If you are not in the New England area, our team can help you find an authorized dealer near you.