Advantages of Trailer Wedge Stands and Pads for Transporting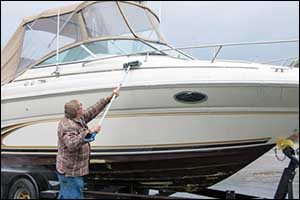 When it comes time to transport your boat, either from one body of water to another or to put it away in storage when not in use, it pays to have all of the right trailer components and protection pads for boats required to keep your boat safe during transporting. Convenience, durability, and safety are the most important qualities to keep in mind when choosing a trailer. In addition to getting the right size and type of trailer, you will also want to get high quality TLC boat pads to use underneath the vessel for protection while your boat is out of the water. Trailer wedge stands and pads are a necessity for any boat owner with a trailer.
The Advantages of Trailering
While some boat owners prefer to leave their vessel at the marina, it is not always a practical choice for everyone. The area where you live can be a major influence, as some areas might experience freezing during the off-season and your boat needs to be protected. Marina storage also restricts you to where you can go and can make it difficult to get your boat out of the water in a hurry if there is an impending storm. Trailers are extremely convenient and if you use the right trailer components and high quality TLC boat pads, you will be ready for anything.
Want to go fishing somewhere else? Taking a weekend trip? Need to do maintenance on your vessel? Looking to store your boat on dry land to prevent damage from seasonal storms? Whatever your goals, trailer wedge stands and pads, such as the protection pads for boats available through Brownell Boat Stands, can be extremely beneficial. Not only will they protect the hull during transportation, but they can also prevent scratches and scrapes as the boat is loaded onto the trailer and when it is moved back off again.
Protect Your Boat Out of the Water
When you are transporting your boat, it is important to know what you are doing. Before you even get out on the highway, you should know the ins and outs of negotiating all of the obstacles that are set before you. Potholes, stoplights, slippery surfaces and traffic can all do damage to your boat if you don't know what you are doing. High quality TLC boat pads and other protection pads for boats can help to cushion the blow as you navigate around town or out on the freeway. However, it is important to know how to safely drive your boat and trailer to make sure you are ready for anything.
The type of trailer that you choose is an important step in protecting your vessel. Trailer components, such as trailer wedge stands and pads, can provide extra protection when and where you need it. The bunkers or rollers should be properly positioned underneath your boat to provide support. While many trailer dealers will do this work for you, but the more input that you are able to put into the type and size of trailer that you get for your boat, the better. Take time to study trailers and trailer components so you will know what you are getting and how to use it properly as you prepare to move your boat.
Trailer maintenance is important as well. Inspect your trailer more frequently if it is used often, but you should at least inspect the trailer in the spring and in the fall. Whether you stow your boat away in storage on high quality TLC boat stands during the winter months or if you only use the trailer for transporting on fishing trips, make sure to check the frame and axle trailer brakes, trailer tires and spare tires, rollers, hubs and bearings, lights, and rollers, so that everything is in good working order.
Contact Brownell for Trailer Components and Pads
If you are shopping for trailer components, such as trailer wedge stands and pads, you can count on the team here at Brownell Boat Stands. We offer a wide selection of different sizes of high quality TLC boat pads and other types of protection pads for boats. Give us a call at 508-758-3671 to get a more information on all of the tools and equipent available from Brownell or to locate an authorized dealer near you.