Adjustable Trailer Pads: How to Take a Road Trip With a Boat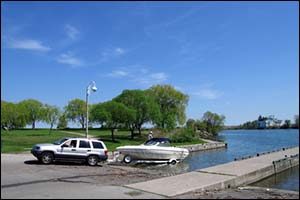 So you've decided to embark on a family vacation and bring along your boat. Whether you own a motor boat, sailboat or personal watercraft (PWC), you will definitely want to take some time to prepare before you take off on your trip. Even if you have previously hauled your vessel to local bodies of water, you will want to take extra care if you are going on an extended road trip. Make sure you have it all, from the appropriate adjustable trailer pads to trailer wedge stands and pads, a personal watercraft dolly or other alternate marine dollies, tie downs, trailer hitches, and anything else you might need.
The Pre-Trip Prep
Some time before you set off on your family road trip, make sure to conduct a pre-trip prep of your boat, trailer and all of the accessories that you will need to have an enjoyable adventure. Check out your trailer and inspect the trailer wedge stands and pads, to make sure that everything is in good working order. Check the tires on the trailer to ensure that they are inflated and in good condition. Ensure that the adjustable trailer pads you are using are appropriate for the vessel that you are hauling. If you need help loading up the trailer with a PWC, or need help moving it once you reach your destination, consider bringing along a personal watercraft dolly to make the work a lot easier.
Make sure that the vehicle you will be using to tow your trailer and boat is up to the task as well. You don't want to break down in the middle of your vacation, just to discover that your boat was too heavy for your truck's engine. Ensure that there is enough space for passengers and all of their luggage during the trip. Consider bringing along a second vehicle and driver if there isn't enough room for everyone in the hauling vehicle. You will also need to watch the amount of weight in the hauling vehicle. Don't forget to include that in your configurations to determine how much weight your truck can handle with its tow rating.
Other things to think about for your trip can include:
fishing tackle
life vests and safety gear
fuel and water tanks, filled and ready
watersports gear
additional equipment, including PWCs, ATVs or bikes
coolers of food and beverages
any other vacation gear
passengers, pets and personal bags
Make sure the load is distributed properly on the trailer and in your hauling vehicle. Ensure that there isn't too much weight forward of the boat to prevent problems with handling and steering. Weight should be distributed 50 percent on one side and 50 percent on the other for best results. Working this all out ahead of time will help you to pack and go at the onset of your trip and be able to pack everything up again properly before you head back home. Make sure you use all of the right trailer wedge stands and pads for all vessels and that you have the right size alternate marine dollies, if you need to bring them along.
Trailer Checks During the Trip
When you take a trip with a boat in tow, there is a lot more that you need to do with regard to transportation safety. When plotting your trip, make sure to check the route to ensure that you will be compliant with any trailering regulations. Each state has different laws, so it pays to be prepared. Some states may also require you to apply for a special wide-load permit, even if your home state does not. Ensure that your insurance policy covers your boat while it is on the road and that your vehicle is covered for hauling a trailer.
If you will be stopping at a hotel or campground along the way to your destination, make sure to make reservations ahead of time. Ask them if there is any option for a lighted pull-through parking for your trailer. Give yourself plenty of time between stops on your trip, just in case you run into traffic or have difficulty maneuvering. Have all of the reservation information with you in the vehicle so you can extend, cancel or change your reservation in any way. Make sure you can see your vehicle and trailer whenever you stop for the night. If possible, back up the boat trailer to a wall or another barrier that will prevent someone from removing it and stealing it while you sleep.
Trust Your Boat to Brownell
Whenever you are storing or transporting your boat, you can trust your vessel to quality products and equipment from the Brownell Boat Stand System. Whether you need a personal watercraft dolly, alternate marine dollies, adjustable trailer pads or standard trailer wedge stands and pads, you can count on Brownell products. Give us a call at 508-758-3671 or visit our website to use our Boat Stand Selector to choose the products best suited for your vessel.