10 Tips for Getting Your Boat Back Out on the Water in Spring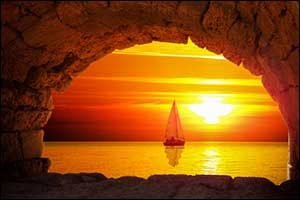 As soon as the snow starts to melt and that first fresh breeze hits your face, you know sailing season is just around the corner. Boat owners everywhere know that feeling. Your prized vessel has been chilling on sailboat jack stands at the boatyard or in your garage, so it's time to roll up your sleeves and start making preparations for launch. You can count on Brownell boat stands to safeguard your boat when it is out of the water. Our foldable sailboat stands can be stored easily when not in use and, when used in proper combination, they are perfect for maintenance, painting, cleaning, and storage year-round.
Visit our website at www.boatstands.com to see our full line of keel support and yacht stands to protect your sailboat or motorboat during the off-season. Our online Boat Stand Selector can help you choose the best system based on the make, model, and year of your vessel. We also have a full line of other protective, storage, and transportation tools to help you keep your boat in "ship shape" whenever it is out of the water.
Tip #1 – Start With a Good Clean
The best way to get the season off on the right foot is to wash away all of the winter dirt, dust, and grime. If stored indoors, dust can still accumulate, even if you shrink wrap your boat. When stored outdoors, it pays to put your boat up on sailboat jack stands and do a thorough cleaning and put on a good wax. Detail the hardware and interior areas of your boat, so it is ready for launch when the weather permits.
Tip #2 – Choose Smart Products
Don't just pull out the cleaning fluids that you use to keep your kitchen and bathroom clean at home. A boat requires marine cleaning products to protect all of the specialized materials. While some boat owners swear by products designed for cars and trucks, the truth is that many of these fluids can be damaging to your boat.
Tip #3 – Use Brownell Boat Stands
Don't quickly prop your boat up on cinder blocks and hope it stays balanced. Use a quality set of Brownell boat stands that include proper keel support and yacht stands or foldable sailboat stands, as required.
Tip #4 – Pump and Clear the Bilge
Melted snow, rain, and other types of debris can make its way into the bilge during winter storage. Make sure to check it out and pump out any water before you launch your boat. Take time to clean every inch of your vessel for best results.
Tip #5 – Check and Charge the Battery
Even if you adequately stored your battery during the off-season, it pays to have it checked out and fully charged before launch. You don't want to get out on the water only to find out that nothing is working.
Tip #6 – Update Safety Gear and First Aid Equipment
It pays to take time to update your safety equipment and check out your first aid equipment. Fire extinguishers, medical gear, and even personal flotation devices have expiration dates. Check them out and update, repair, or replace things as needed. Make sure to have a flotation device on board for each passenger on your vessel.
Tip #7 – Service and Maintenance
While many of these tips are for at-home preparations, some are better off being completed by true professionals. The oil needs to be changed, and the filter should be replaced. Servicing is important for the longevity and performance of your vessel. While many boat owners only have this done once a year, experts recommend that it be done every 50 hours of use. Depending on your vessel, there may be other service and maintenance that you will want to have done by a professional before launch.
Tip #8 – Check Your Trailer
When is the last time that you took a good look at your trailer? While much focus is given to the boat and proper use of sailboat jack stands, keel support, and other foldable sailboat stands, the trailer is also important. Check trailer pads and replace when needed. Make sure your tires are in excellent condition and that they are properly inflated. Check the lights and ensure that everything is working as it should.
Tip #9 – Check Your Registration
During the winter months, we tend to forget about trailer and boat registrations. Make sure that you have all of the proper stickers, licensing, and insurance, as required by your home state.
Tip #10 – Perform Another Check on the Water
Before you take off on any trip, make sure to do a safety check before you leave the dock. This is especially important after the winter season when things like drain plugs may have been pulled out, and essential parts may not have been put back on the boat. Sometimes it's just a little thing, but that little thing can mean a lot when you are miles away from shore.
Visit the Brownell Boat Stands Website
For more tips and a full catalog of our top quality products, visit our website at www.boatstands.com. Yacht stands, sailboat jack stands, foldable sailboat stands, pads, trailer components, and much more are all available from Brownell Boat Stands. You can also give us a call at 508-758-3671 to find an authorized dealer near you!